Acme United First Aid Kit, 15 People, 119 Piece Kit
Acme United 60002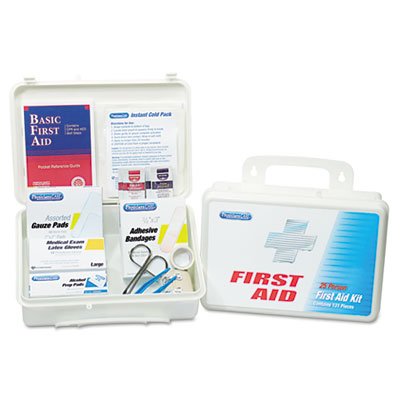 Comparable First Aid Product Products
Acme United 60002 Description
The most frequently used bandages and antiseptics are included in this kit, which is ideal for a medium-sized office. In all, you 'll receive key first aid products, 131 pieces. Weatherproof seal for indoor or outdoor use. Also includes alcohol pads, antibiotic ointment, elastic bandages, burn cream, gauze, instant cold pack, latex gloves, scissors, tape, tweezers and first aid kit. System Capacity: 25 Person System; Number of Pieces: 131; Contains: Bandages;Antiseptics;First Aid Cream;Scissors;Forceps;Latex Gloves;Instant Cold Pack;Secondary Dressings.
Product Specification
Manufacturers Parts Number
60002
Manufacturer Description
First Aid Kits for 25 People, 131 Pieces, Plastic Case
Includes one first aid kit with bandages, antiseptics, first aid cream, scissors, forceps, latex gloves, instant cold pack and secondary dressings.
Acme United 60002 Reviews