on 10/16/2019
A Cadet heater is every family's best friend when the chilly weather comes through. And at HomElectrical we offer you a wide choice of quality Cadet products including their garage, wall fan, and baseboard heaters for your comfort needs. Cadet prides itself on making safe, energy-saving products that keep your family cozy in the cold. Cadet's Com-Pak line is popular because each product is so easy to use. It also provides warming power in a sleek package. It can also be mounted vertically or horizontally. And the rounded edges keep children and pets from getting hurt. We have Cadet heaters for your warehouse, office, or home.  
The Cadet Energy Plus Wall Heater: The Pinnacle of Heater Technology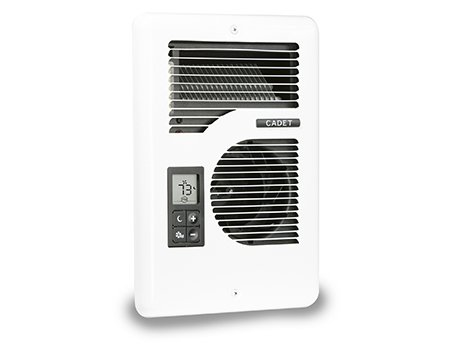 This wall heater can be installed in a home or office to provide superior warmth to the areas that need it most. It comes with a special power supply sensor that automatically adjusts the voltage to match the voltage supply. This unit prevents temperature shifts using auto-adjusting fan speed controls. The Energy Plus wall heater can save you as much as 30% on energy use without sacrificing any of the power or warmth that you're looking for.

Just want to replace your previous Cadet Com-Pak series heater? Easy! The Cadet Energy Plus uses the same can as your Com-Pak series unit does, thereby removing any of the need for additional patchwork or cutting when you're ready to install the product. This is just another way Cadet considers the end user and uses design to make your life easier. Get quiet, comfortable heat with a fan that can also adjust itself to make sure that there are no wild swings in temperature. One of the greatest energy-saving features of this model is the 'Away' button it was designed with. With just a touch, you're able to dial back the heat when you won't be around to enjoy it. Keep your family, employees, or clients comfortable when people are around, bring down your energy bill when your living or work space is empty.

The Cadet Energy Plus wall heater can be used with 240-volt, 208-volt, and standard 120-volt circuits. It will use 1600, 1500, and 1000 watts with each of those voltages respectively. The complete unit includes a wall can, heater assembly with digital thermostat, a grill, and enough power to effectively heat up to 200 square feet of space. The high-temperature safety shutoff turns the machine off if normal operating temperatures are exceeded makes this product everything you need to add safety and comfort to your home for the winter.

Get this heater for your home today!
The Cadet SoftHeat Hydronic Baseboard Heater: Comfort from the Ground Up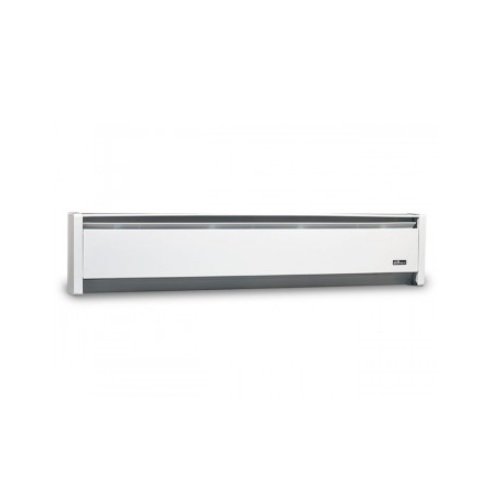 Baseboard heaters offer quiet, even, efficient heating that doesn't take up a lot of space and runs safely. Some people even use these units for supplemental heating when they live or work in older homes or buildings, or if their current HVAC system is wearing down and needs to be replaced. One of the greatest safety features of this model is that it gives off heat without getting dangerously hot itself. Because this product leans more heavily on using water to disperse heat than hot metal, heating elements don't have to reach such high temperatures in order to warm. This makes it great for your children and pets because contact with the machine doesn't automatically mean a trip to the emergency room.

At nearly seven feet long, this hydronic baseboard heater is sure to make any frigid room more comfortable in a quick, smooth, quiet manner.

Take a closer look at Cadet's baseboard heaters!
The Cadet Hot One Garage Heater: Revved Up for Warmth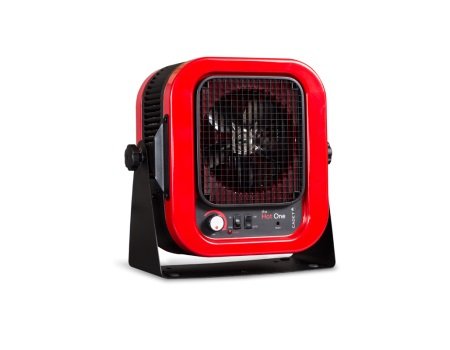 As much as any other time of the year, your vehicles need to be properly maintained in order to avoid everything from dry-rotted tires to deposit buildup in your engine. But, standing out in the garage when it's 20 degrees outside is very few people's idea of fun time. This is where the Cadet Hot One comes in. This powerful unit warms up your utility space like no other appliance. The Hot One comes with a power cord that is six feet long, and portable heaters are needed when dealing with larger vehicles. The long cord allows you to carry the warmth with you and adjust it as needed no matter what side of the vehicle you're on. This product also has the ability to toggle betwee 5,0000 watts of power of 3,333 watts of power, giving you a level of control over energy consumption to keep your power bill managed appropriately.  A wall bracket and floor stand allow you to mount the Hot One wherever you see fit in your work space. The auto-off feature for adds a layer of overheat protection for yourself and your home.. The Hot One will make sure you give your four-wheeled friends all the time and attention they need, without freezing your lug nuts off!

Get your garage in gear with a new Cadet heater!
 
No matter which of these kinds of heaters you choose, you know you're in good hands when you stick with Cadet and shop at HomElectrical!