on 10/15/2020
Why Use a Carbon Monoxide Detector? 
A working smoke detector is a must-have to protect your home, but just as important is a working carbon monoxide detector. 
Carbon monoxide detectors are essential for at-home safety. According to the CDC, every year over 400 deaths and over 4,000 hospitalizations of Americans result from unintentional carbon monoxide poisoning. Carbon monoxide, or CO, has no taste or smell to give any warning. Detecting a carbon monoxide leak relies entirely on a detector.
Symptoms of carbon monoxide poisoning include: headaches, dizziness, weakness, upset stomach, vomiting, chest pain, shortness of breath, and confusion.
How does a carbon monoxide alarm work?
A carbon monoxide detector includes a sensor on the inside indicating the presence of CO in the air. Once the detector senses the gas, it emits a loud sound to alert you of its detection. The CO alarm will shut off once it no longer detects the gas.
What kinds of carbon monoxide detectors are there?
The way a CO detector is powered might help you decide which one your home needs. They have a few different types: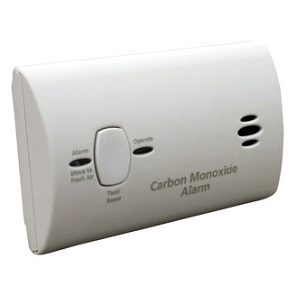 Battery Operated
Depending on the type of battery your detector uses, you will need to change out the batteries in your CO alarm to keep them powered. The detector will warn you when it is time to replace the battery.
Some alarms use sealed lithium batteries that last 10 years, about the life of the alarm, if you don't want to have to worry about changing the batteries out.
Battery operated CO alarms continue to work even if the power goes out!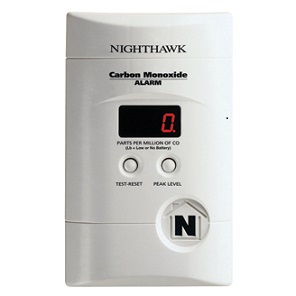 Plug-In
Easy to install and convenient to use, plug-in detectors connect to nearby outlets. Some of them, like this Kidde Plug-In CO alarm, use a battery backup just in case.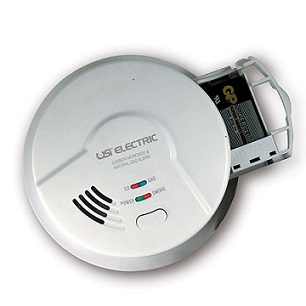 Hardwired
Detectors that need to be hardwired don't rely on batteries to operate but they usually include a backup battery, like this USI Electric CO and natural gas detector.
*We recommend consulting a professional when rewiring or hardwiring
Carbon monoxide alarms have gotten more advanced in recent years. Here are a few features you may find:
Combination carbon monoxide alarms can save you wall space by combining your smoke, natural gas, and/or fire detectors into one

Some carbon monoxide detectors offer a digital display screen that can indicate current levels of CO

End-of-Life warning to indicate your detector needs replacing

Some offer a voice warning along with a loud noise to warn you of detection
Where should I put my carbon monoxide detector?
The CDC recommends placing at least one carbon monoxide detector on each floor of your house. A carbon monoxide leak can become lethal while you sleep since you can sleep through the symptoms, so you should place detectors in hallways and sleeping areas to wake you in the event of a leak. 
Where to avoid putting a CO detector:
You should avoid putting detectors where they might come in too much contact with heat and humidity, like bathrooms, or by any heater or appliance that generates heat as these can damage the detector.
Make sure to test your carbon monoxide detector frequently. If you don't own one or you are in the market for a new one, purchase a carbon monoxide detector from HomElectrical today!
Related Blogs: 
Resources:
1. https://www.cdc.gov/co/faqs.htm
2. https://www.kidde.com/home-safety/en/us/co-safety/choosing-a-carbon-monoxide-alarm/