on 07/27/2020
We all want to find a pastime that encourages social distancing. The great outdoors serves as one of our best options! When planning a safe and organized camping trip, consider lighting, food storage and proper first aid. HomElectrical offers lighting, coolers, and other camping gear for this camping season!
Flashlight/Headlamp
Many of us own flashlights for household use or emergencies. Essential to camping, flashlights rival another option: headlamps.
Both carry out the same purpose but consider these differences.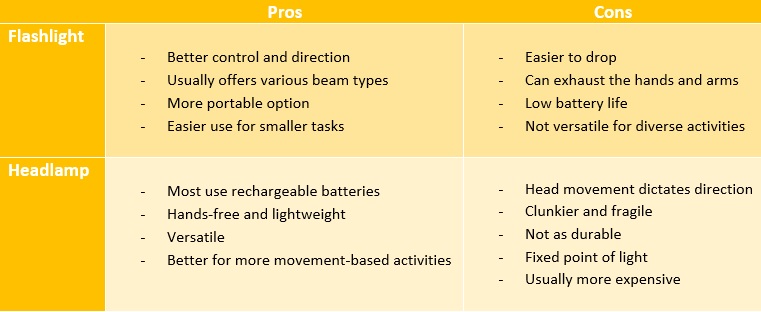 Whichever lighting option you choose, consider these certain functions and features for either one.
Light Output

Lumens measure the light output of your camping light. The output ranges from 20 to 3,500 lumens. The average flashlight's output sits around 100 lumens. Flashlights and headlights with at least 1,000 lumens see use in professional fields like law enforcement and emergency services.

Choosing a lower or higher lumens count depends on the needs of your camping trip.

Beam Distance

Measured in meters, this tells you how far the light reaches before the brightness dims. You can adjust beam distance with brightness settings.

Run Time

Run time tells you how many hours the light output lasts until the batteries die.

Bulb Type

Don't just switch to LED bulbs in your home. Avoid low powered lighting options and constantly replacing your batteries by investing in an LED camping light.

Beam Type

The beam type describes the way light spreads.

Flood (or fixed)

A single beam with a wide, short pattern

Average beam angle greater than 25°

Spot (or focused)

A single beam focused as a spotlight to reach a long distance

Average beam angle less than 25°

Adjustable

The width ranges from foxed to focused
If your camping trip covers a wide range of activities, consider a camping light with an adjustable beam type.
Tarp
A tarp prevents issues you may face with the rain and wind this camping season. Stringing a tarp above your tent, like a roof, give you an extra barrier against these conditions. Make sure to slant it downhill so water redirects downhill and not under your tent.
Placing another tarp under your tent can prevent holes, tears and moisture from damaging the tent. Although most tents use waterproof material, tarps can help extend your tent's lifespan.
Camping gear is an investment, but a tarp gives you an inexpensive, protective option for your trip!
Cooler
Ranging in size and capacity, a cooler organizes and refrigerates food and drinks better than plastic grocery bags. If you're taking a more relaxed camping trip, a hard-sided cooler can easily carry your belongings due to the wheels and retractable handle. They also triple as a base to wheel heavy gear to the campsite or as extra seating for campers.
Choose a size based on your personal needs, like the number of campers and planned recipes. If you need a more portable cooler, one with smaller capacity or soft casing may be your solution!
First Aid
When it comes to camping gear, sometimes we grab the first-aid kit that's in our hall closet and throw it in our car without looking through it or restocking. It's easy to prevent minor issues from becoming major ones by doing research and re-stocking.
No matter what type of camping trip you take, from basic tent camping to backpacking, you need a first aid kit that meets your needs. Most people choose pre-made kits, which work great, but sometimes we need to add something extra or adjust to our needs.
Group Size

Most kits have a label that tells you how many people it serves. You may need to save space or need more supplies, like compresses or gauze pads, based on how many people or the type of trip you take.

Trip Risks

Research the area you're traveling to when figuring out what extras you need. If you know you're going to a campsite with a high snake population, look for a snake-bite kit.

Special Needs

Bring any necessary prescriptions or special items, like an EpiPen, for you or other campers.

Personal First Aid Training

A kit can't perform CPR so consider getting first aid training. It could save someone on your upcoming camping trip or any time after. Understanding these techniques could prevent future accidents and help you understand your first aid kit better.