Leatherman Black Oxide Surge Multi-Tool with Premium Sheath
Leatherman 831024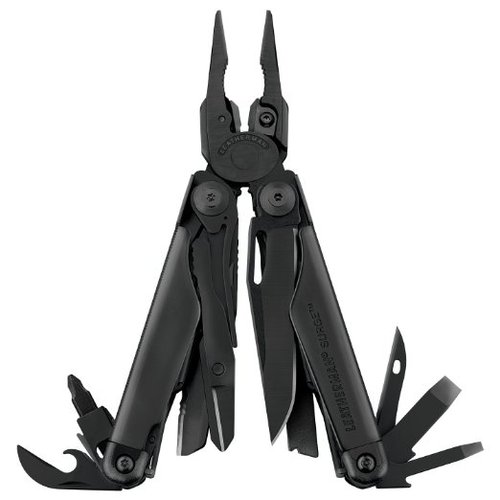 Looking and acting like a typical pocket knife, the Leatherman Surge takes multi-tools to the next level! Providing an open lock feature and high-carbon stainless steel, getting any job done becomes a breeze. Shop HomElectrical today!
Shipping
Usually Ships 1 to 2 Business Days
Comparable Pliers Products
Leatherman 831024 Description
Leatherman Black Oxide Surge Multi-Tool with Premium Sheath Features:
Leathermans largest pliers, longest pock knife blades, and easy-to-use locks
Outside tools that work in a folded state provide the feel of a pocket knife
Four outside-opening, stainless steel blades
Locking feature keeps tools in place when opened to allow pressure while working
Unique blade exchanger
Replaceable 154CM wire cutters
Built-in lanyard ring to keep from losing the multi-tool while working
One-hand useable to make multi-tasking easier
Closed length: 4.5''
Primary blade length: 3.1''
Weight: 12.5 oz
25-year guarantee to be free from defect
Tools Included:
Needlenose pliers allow pinching for foldings or twisting material in small areas
Regular pliers allow pinching for holding or folding material in a larger area
Premium replaceable wire cutters are ideal for cutting regular and light-gauge wires
Premium replaceable hard-wire cutters
Stranded wire cutters / Concave cutters keep the shape of stranded wires without crushing them
Electrical Crimper for general purpose crimping
Wire stripper ideal for multiple wire types
High-carbon stainless steel, 420HC knife is easily maintained and corrosion resistant
High-carbon stainless steel, 420HC serrated knife features a toothed blade to grab and cut materials easily; perfect for cutting rope or fiber
Tooted Saw blade made of 420HC high-carbon stainless steel works on a pull motion to use less effort; designed to prevent material fill up for less cleaning while working
Spring-action scissors for cutting light materials
Awl tool with thread loop to create or enlarge hold in materials such as leather or canvas
Built-in ruler that measures up to 8 inches (19 centimeters)
Can Opener in a lever/punch style - pushes cut material into the rim to prevent sharp edges
Bottle Opener
Wood/Metal file made of 420HC stainless steel with a crisscross pattern to form a rough surface
Diamond-Coated stainless steel blank file to sharpen hard steel blades with precision
Blade exchanger to swap out Leatherman and universal t-shank tools
Large bit driver to hold any full-size Leatherman tool bits (not intended for the eyeglass screwdriver tip)
Large flat blade screwdriver made from 420HC stainless steel
Small flat blade screwdriver made from 420HC stainless steel
Product Specification
Application Type
All Purposes
Manufacturers Parts Number
831024
Manufacturer Description
The Leatherman Surge is one of our two largest multi-tools; a real powerhouse, built with our largest pliers, longest multi-tool blades and easy-to-use locks. A unique blade exchanger, replaceable 154CM wire cutters and four outside-opening blades give you quick access to the tools you use most. The Surge was built for tough jobs and the hands that do them.
Leatherman 831024 Reviews