Kidde Battery Operated Combination Ionization CO/Smoke Alarm with Front Load Battery and Voice Warning, Boxed
Kidde KN-COSM-XRT-BA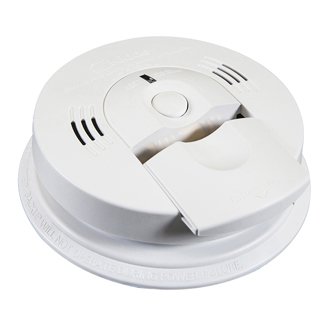 Smoke detectors from Kidde are created with key features to ensure your home's safety is never compromised. An ionization sensor provides a quick response to ensure the prompt alert of any fire. Shop HomElectrical for Kidde smoke detectors.
sold by
case of 6
for only
$306.00
Shipping
Usually Ships 1 to 2 Business Days
Comparable Smoke Detector Products
Kidde KN-COSM-XRT-BA Description
Battery Operated Combination Ionization CO/Smoke Alarm with Front Load Battery and Voice Warning, Boxed features:
Voice alerts to what is detected, either CO or Fire
Low battery chirp with red LED flash
Alarm memory can alert the user that the unit has detected carbon monoxide before
Front-loading battery eliminates the need to remove the unit from the ceiling or wall
Tamper resistant
Electrochemical sensor provides accurate CO protection and resists reactions to household gases that would typically cause false readings
Audio alarm: 85dB at 10 ft.
Ionization sensor is ideal for detecting quickly lit fires
Product Specification
Manufacturers Parts Number
KN-COSM-XRT-BA
Manufacturer Description
The Kidde KN-COSM-BA Combination Carbon Monoxide & Smoke Alarm provides two important safety devices in a single unit. This alarm includes a voice warning system that announces "Fire, Carbon Monoxide, Low Battery and Smart Hush Activation." The voice alarm eliminates any confusion and clearly warns you and your family of a smoke or carbon monoxide danger, or if your battery is in need of replacement. This technologically advanced combination alarm is battery operated protecting you and your family even during a power outage when many incidences occur.
Kidde KN-COSM-XRT-BA Reviews