Excel Dryer Xlerator Automatic Hand Dryer, Stainless Steel
Excel Hand Dryer XL-SB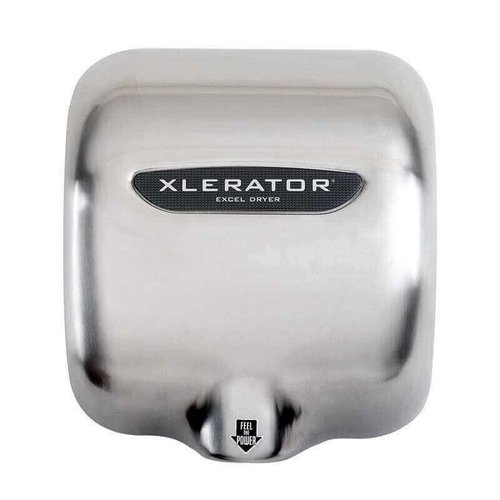 Color / Finish

Stainless Steel

sku

EHD-XLSB
Shipping
Usually Ships 1 to 2 Business Days
Comparable Hand Dryer Products
Excel Hand Dryer XL-SB Description
The XL-SB automatic Xlerator Hand Dryer comes with a stainless steel cover brushed finish. Not only does this hand dryer uses 80% less energy than a conventional dryer, but it is capable of drying your hands in 15 seconds or less. Equip your bathroom with this elegant brushed finish stainless steel Xlerator Hand Dryer to give it a more upscale look.
GREENSPEC approved & qualities for LEED credits.
Uses 80% less energy compare to a traditional hand dryer.
Dries Hands in within 10 to 15 seconds.
The automatic hand dryer operates for 35 seconds or as long as hands are under the air outlet.
Xlerator Hand Dryer cover is constructed of a heavy duty & rust proof die-cast zinc alloy with a brushed finish stainless steel.
The heating element is made of Nichrome wire mounted inside the blower housing which produce an air temperature of up to 135 degree F with only 970 Watts.
The 1500 Watts hand dryer generates air velocity of up to 16,000 lfm (linear feet per minute) at the hands.
Internal parts are coated according to the UL requirements.
Dimension: 11-3/4" Length X 12-11/16" Height X 6-11/16" Depth
Warranty: Five (5) years Manufacturer warranty.
Xlerator Hand Dryer is available in the following voltages: 110V/120V, 208V, 220V/240V, 277V
ADA-Compliant Recess Kit
Stainless Black or White
Unless specified, the 110V/120V hand dryer option is shipped.
Product Specification
Color / Finish
Stainless Steel
Manufacturers Parts Number
XL-SB
Manufacturer Description
Units are 1500 Watts
Also Available:
110/120V, 12.5 Amp, 60 Hz
208V, 7.0 Amp, 60 Hz
220/240V, 6.5 Amp, 60 Hz
277V, 5.5 Amp, 60 Hz
220/240V, 6.5 Amp, 50 Hz
Excel Hand Dryer XL-SB Reviews