Stelpro La-Nina Automatic Hand Dryer, Brushed Chrome
Stelpro LANV1200ABC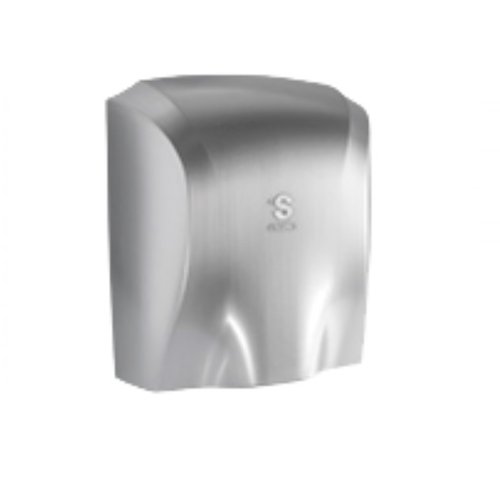 The La Nina hand dryer is heavy-duty and highly durable. Equipped with normal and eco-friendly modes, you'll be able to get dry hands at multiple different air speeds.
Color / Finish

Brushed Chrome

sku

STP-LANV1200ABC
In stock
Usually Ships 1 to 2 Business Days
Comparable Hand Dryer Products
Stelpro LANV1200ABC Description
Automatic La-Nina Hand Dryer, 1350W, Brushed Chrome features:
Multi-Voltage
Four personal operating modes including:

Ultimate - Normal/High mode for high air speed and full heating power to dry quickly, and is ideal for stadiums, arenas, theatres, public places, and warehouses
Comfort - Normal/Low mode for reduced air speed and moderate heating power at a comfortable noise level. Ideal for libraries, small restaurants, and coffee shops.
Economical - Eco/High mode has high air speed without heat and is energy efficient and coast saving. Ideal for schools, universities, amusment parks, warehouses, and large restrooms.
Harmony - Eco/Low mode has reduced air speed without heat for energy and cost saving advantages at a comfortable noise level. Ideal for hospitals, libraries, daycares, small restaurants, and coffee shops.

Lightweight, resistant, and has a lexan rib reinforced shell for ultimate protection
Surface mounted with wall bracket and two stainless steel tamper-proof bolts for ultimate security
Has an infrared optical sensor next to the air outlet to activate and deactivate the hand dryer
60-second lockout feature is useful and activated if hands aren't removed before this allotted time
3 levels of detection include Maximal(approx. 4in), Medium(approx. 3 in.), and Minimal(approx. 2 in.)
Optional semi-recessed installation with depth of 4 inches or less to help you meet ADA standards
Recommended installation heights are:

Men: 45 inches
Women: 43 inches
Teenagers: 41 inches
Children: 35 inches
Handicapped: 37 inches
Product Specification
Color / Finish
Brushed Chrome
Manufacturers Parts Number
LANV1200ABC
Manufacturer Description
Bet on LA-NINA and you won't be disappointed. One model, three voltages, its versatility will amaze you! This multivoltage hand dryer may be installed in many different environments due to its four personalized operating modes. The LA-NINA hand dryer takes up very little wall space; only 4 inches deep! The odds are with LA-NINA!
Stelpro LANV1200ABC Reviews