Coleman Cable 16/3 SJEOW Polar/Solar Extension Cord 25-ft
Coleman Cable 1287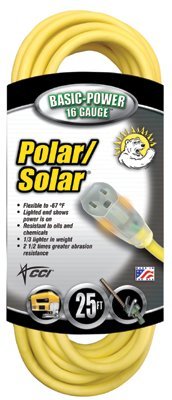 Comparable Extension Cord Products
Coleman Cable 1287 Description
This extra long cable is effective for providing power to all of your electronic devices. These cables are extra long and brightly colored so they provide maximum visibility.This cable is also extra rugged and chemical, oil, and weather resistant.
Cable Marking: SJEOW
Conductor size 1:16/3 AWG
Length: 25 ft
Yellow
Voltage of 125.00 VAC
15.00 A
withstanding voltage of 300 V
Operating temperature of -67 degree F
Chemical Resistant, oil resistant, weather resistant
weighs 1lb.
Product Specification
Manufacturers Parts Number
1287
Manufacturer Description
16/3 25' SJEOW POLAR/SOLAR EXTENSION CORD
Amps: 15.00 A
Cable Marking: SJEOW
Color: Yellow
Conductor Size 1: 16/3 AWG
Operating Temp.: -67 F Min
Resistance: Chemical Oil Resistant Weather Resistant
Voltage: 125.00 VAC
Withstanding Voltage: 300 V
Coleman Cable 1287 Reviews