PowerSafe White 15A WRTR Self Grounded Receptacle
PowerSafe REC15-WR-W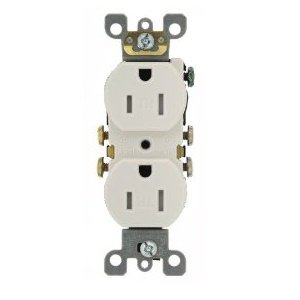 These self-testing GFCIs are designed with all the specifications and rules outlined by UL 943. They also come with tamper resistant and weather resistant features to ensure safety and satisfaction in every room!
Free Shipping (Eligible For Most Orders Over $75)
Shipping
Usually Ships 1 to 2 Business Days
Comparable Duplex Outlet Products
PowerSafe REC15-WR-W Description
HomElectrical offers a white 15 Amp Tamper Resistant and Weather Resistant Duplex Receptacle that is ideal for many electrical projects. The tamper resistance prevents accidental electrocution because the outlet contains and internal shield that does not permit an electrical connection unless the pressure on both sides of the outlet is even. The weather resistance makes it perfect for outdoors because the UV stabilized thermoplastic material is made to resist the elements. This outlet is also self grounding which means that it has a metal plate that automatically grounds the outlet upon installation. The maximum voltage is 125 and the duplex style allows for multiple connections to be made at once for the users convenience.
Volts: 125
Color: White
Amperage: 15
Self-grounding: Yes
Outlet Type: Duplex
Tamper Resistant: Yes
Weather Resistant: Yes
Alternating Current: 60 Hz
Control Style: Non-Decorative
Product Specification
Manufacturers Parts Number
REC15-WR-W
PowerSafe REC15-WR-W Reviews