Band-it 1/2" Ultra-Lok Stainless Steel Buckles
BAND-IT UB2549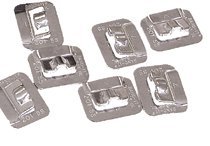 Comparable Grab Hooks & Shackles Products
BAND-IT UB2549 Description
The ultra lok buckle is made of stainless steel and features a locking hood that protects from snags, with a unique lock that is formed under full tension that maximizes tightness of band clamp. This ultra lok buckle features a 3 times stronger than other preformed clamp designs.
Width: 1/2 in
Material: Stainless Steel 201
Product Specification
Manufacturers Parts Number
UB2549
Manufacturer Description
ULTRA-LOK BUCKLES 201SS 1/2"
Material: Stainless Steel 201
Quantity: 100 per box
Width: 1/2 in
Weight: 0 lb
BAND-IT UB2549 Reviews