Gearwrench 1/2 in Drive 17 Piece Standard Socket Set
Gearwrench 80716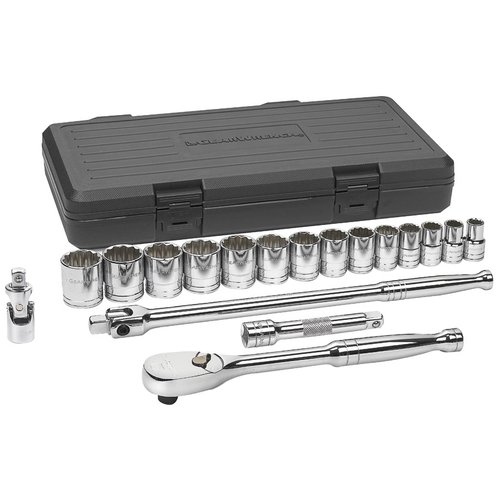 Order now and we'll deliver when available. We'll e-mail you with an estimated delivery date as soon as we have more information.
Shipping
Usually Ships Business Days
Comparable Sockets & Accessories Products
Gearwrench 80716 Description
This seventeen piece twelve point standard socket set comes equipped with standard sockets, a full polish flex handle, an extension and a blow molded case for convenient carrying. The drive size of the sockets reach 1/2 inches.
Drive Size: 1/2 in
Includes: 5 in. Extension, Case, Full Polish Flex Handle, Full Polish Teardrop Ratchet, Universal Joint
Measuring System: SAE
No. of Points: 12
Opening Size: 7/16 in, 1/2 in, 9/16 in, 5/8 in, 11/16 in, 3/4 in, 13/16 in, 7/8 in, 15/16 in, 1 in, 1 1/16 in, 1 1/8 in, 1 1/4 in1 1/2 in
Product Specification
Manufacturers Parts Number
80716
Manufacturer Description
8PC /2DR 2PT SAE SOCKET SET
Includes: Full Polish Teardrop Ratchet 5 in. Extension Full Polish Flex Handle Universal Joint Case
Opening Size: 7/6 in /2 in /6 in 5/8 in /6 in 3/4 in 3/6 in 7/8 in 5/6 in in /6 in /8 in /4 in /2 in
Weight: 0 lb
Gearwrench 80716 Reviews