Anchor 0.0230 in 85000 psi Mild Steel Welding Wires
Anchor Brand ER70S-6-023X33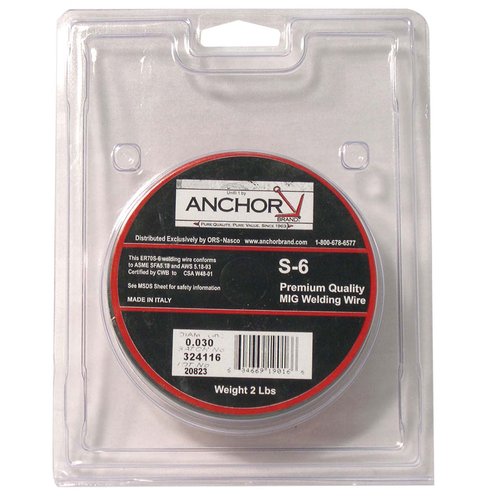 This item is currently out of stock. Order now and we'll deliver when available. We'll email you with an estimated delivery date as soon as we have more information.
Comparable Welding Cable Hose Products
Anchor Brand ER70S-6-023X33 Description
The high silicon content featured in these welding wires increases the fluidity of the weld pool, creating a smoother bead appearance resulting in minimal post-weld grinding. ER70S6 is a mild steel welding wire that contains high levels of manganese and silicon which produces high quality welds when used on dirty, oily, or rusty steel.
Dia.: 0.0230 in
Material: Mild Steel
Packing Type: Spool
Tensile Strength: 85000 psi
Product Specification
Manufacturers Parts Number
ER70S-6-023X33
Manufacturer Description
ANCHOR ER70S-6 .023X33 (33# SPOOL)
ER70S6 is a mild steel welding wire that contains high levels of manganese and silicon which produces high quality welds when used on dirty oily or rusty steel. The high silicon content increases the fluidity of the weld pool creating a smoother bead ap
Dia.: 0.0230 in
Material: Mild Steel
Packing Type: Spool
Weight: 33 lb
Anchor Brand ER70S-6-023X33 Reviews