on 10/24/2018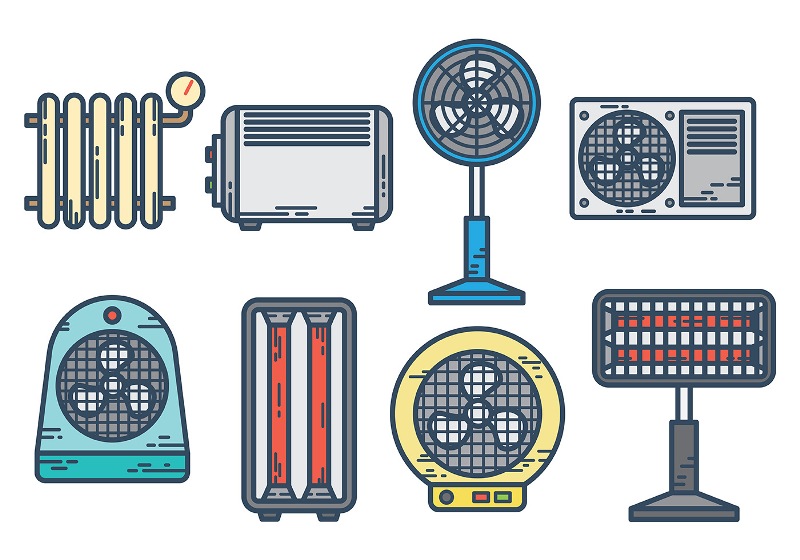 When trying to pick out a heater, you want to choose something that will help you save money and stay energy efficient. You also must consider which heater you need based on the size of a room or decide if you are trying to heat a large space!
Typically, space heaters tend to be the go-to for many people, but you have to pay attention to the different types of heaters and fuel types they use to help you get the most efficient and helpful solution!
What are the different fuel types for heaters?
Electric Heater

An electric heater uses the electric supply that is already in your home! The room heater can be integrated into your central heating system if you wish, but it can also work on its own.

Natural Gas Heater

These heaters use the gas supply that is already in your home, which is cheap and convenient for you to use! Not only that, but gas heaters are also easy to install!

Propane Heater

Propane fuel is cheap to buy and can be used in both indoor and outdoor locations! Keep in mind: do not use an outside heater with propane inside or outside next to a window for safety reasons!

 

Kerosene Heater

Kerosene is a cheap fuel and is a little safer to use and store instead of propane. Kerosene is also very powerful and is popular for heating large spaces, such as workspaces.

 

Pellet Fuel Heater

Pellets are also cheap to buy for heating and are burned efficiently! Pellets are also very powerful and could heat an ENTIRE home if that is what you need!

 

 

Oil Filled Heater

An oil filled heater is typically powered by your electric supply. They use connection currents for power, and as a bonus, they stay warm even after they are turned off!

 

Hydronic Heater

This type of heater is warmed up by the boiler you have in your home. The hydronic heater passes the hot water from the boiler to the heater to easily warm it up!

 
What are the different types of heater systems?
Electric
An electric heater comes in a variety of different shapes and sizes mostly for indoor use.
The heater converts electrical energy to heat energy to help warm up a space; typically, a single room.

Electric heaters can be mounted to a wall, ceiling, baseboard, or you can use one that is portable!
Kerosene
A kerosene heater is typically a portable heater that has a large amount of power and can produce a lot of heat.
They can typically heat up an entire home, but you have to be careful when using it because it needs to be well ventilated.

They are often used to heat large areas, such as a warehouses, and help reduce heating bills tremendously.
Propane
A propane heater can be used indoor and outdoors, but you must have a safe design and place in mind to put it before purchasing.
Depending on the type of environment you are warming up, you can use radiant, convective, or fan forced heat, but you have to be careful of where you store the gas and where you place the heater.
Oil filled and Hydronic
An oil filled heater is a form of a convection heater that is very common in residential use and is filled with oil.
This heater is an electric heater and it heats the oil as a buffer instead of a fuel source.
A hydronic heater, also known as a water heater or a boiler, is typically fueled by natural gas, but much like the oil heater, it uses hot water to stay warm.
These types of heaters tend to stay warm and generate heat even when turned off.
The oil and water heaters take a long time to warm up as well as distribute the heat to an area.
Pellet
A pellet heater/stove is powered by burning compressed wood or biomass pellets to create heat and is incredibly powerful.

By adding "fuel to the fire" consistently, you won't have to make many physical adjustments.

These heaters are often placed out of the way due to its appearance, but more modern versions of the heater are being used in residential and sometimes industrial locations.
Natural Gas
A natural gas heater is a space heater that can be used indoors or outdoors depending on the type of heater.
By burning natural gas, your home or work space will be heated properly for a low price!
One of these energy efficient heaters is easy to install and are effective for a long period of time.
SAFETY NOTE: Be careful when using or installing gas heaters! A lot of the fuels, such as propane and kerosene, need to be properly stored and the heaters need to be located in a safe and ventilated area!
How do I know which energy efficient heater I need?
As you can see, each heater is different and are more energy efficient for certain areas over others. I know; you still may be asking: "how do I pick a heater?" Depending on if you are looking to heat a room or an entire household, different heaters work best in different scenarios. For example:

What are some extra ways that I can stay energy efficient?
Using a thermostat can help you control temperatures throughout the day so that your heat doesn't run on its own.

Try to set your temperature at 85 Fahrenheit, and if it is not warm enough, raise it by one degree each day until it is comfortable.

Use a portable heater so that you can use zone heating. Zone heating will help you isolate heat in one or two rooms that you use the most instead of trying to spread heat in places you aren't in.
Make sure your home is updated on insulation to stay energy efficient! To help keep the heat in your home, make sure to have both your walls and ceilings insulated, and if you want to go the extra mile, double glaze your windows!
Put your heater on a timer and a schedule so that the heating will fluctuate throughout the day and will not be overcompensating for when you are not there.
Connect With Us
Which energy efficient heater do you use? Do you try to heat one room at a time or an entire space?
Let us know in the comments below, and don't forget to connect with us on Facebook and Twitter!
More Blogs You May Like: