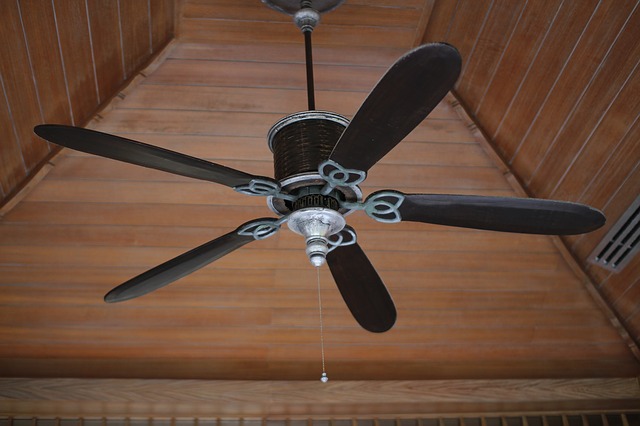 As temperatures start to warm up again, electric bills tend to rise. HomElectrical wants to help you save electricity (and your wallet) before summer comes around the corner and smacks you with a big wave of heat. Some cost-effective, but overlooked, options to beat the heat include ceiling fans and wall fans.
Why use a ceiling fan when I have air conditioning?
Fans circulate air within a space but do not alter room temperature.
While we can't always have a nice breeze going through the house, we can install fans to help with air circulation. According to the Department of Energy, "if you use air conditioning, a ceiling fan will allow you to raise the thermostat setting about 4 degrees Fahrenheit with no reduction in comfort."
Raising the thermostat temperature keeps your air conditioning from running too often or too strong. This leads to energy savings since the operating cost of a fan costs pennies compared to running air conditioning. For homes in moderate climates, a fan could suffice to keep spaces cool in the summer.
How do ceiling fans cool if they don't alter room temperature?
During the evaporative cooling process, sweat evaporates from a liquid to a vapor which provides the cool feeling on skin.
Ceiling fans push cool air down or draw it up when reversed. In the summer, set the fan to spin counterclockwise. The air flows downward cooling people and pets with the wind chill effect.
Most ceiling fans have reversible motors. When set to spin clockwise in winter, ceiling fans with a reversible motor push down the warm air that accumulates at the top of a room. Check your fan or instruction manual to locate a switch to change the direction of the fan blades.
How do I know the amount of air a fan moves?
The CFM, or cubic feet per minute, of a fan determines how much air the fan moves. Compare the wattage (energy required to power the fan) to the CFM to determine the efficiency. Alternatively, look for an Energy Star rating for highly efficient fans.
What kind of fan do I need? Should I purchase a wall or ceiling fan?
Deciding on a ceiling or wall fan depends on different factors: The size of the room, ceiling height, blade distance from the ceiling and walls, and more.
Ceiling fans provide more efficiency due to their size. The Department of Energy states that 36- or 44-inch diameter fans work for rooms up to 225 square feet and 52-inch fans should handle larger spaces up to 350 square feet.
Install fans with a clearance of 7 to 9 feet from the floor for safety and aesthetics. For high ceilings, downrods of various sizes can mount the ceiling fan to keep it closer to the ground.
Small spaces or low ceilings may not provide the optimal setting for a ceiling fan. In those cases, consider a wall fan to provide air circulation.
Where can you use ceiling or wall fans?
Inside the house, ceiling fans find use in the living room, bedroom, or 3-season rooms. Indoor wall fans typically work best in gyms, garages, or workshops.
For outdoor locations, ceiling fans or wall fans suit gazebos, patios, or porches. Ensure outdoor fans have a wet or damp location rating for safe use.
Key Takeaways
Use fans in conjunction with air conditioning systems.
Most ceiling fans reverse and can prove useful in winter.
Ceiling fans have a higher efficiency than wall fans.
Wall fans can go where ceiling fans cannot.
Place fans in frequently occupied rooms or spaces.
If you're in the market for a new fan, check out HomElectrical's selection of ceiling fans and wall fans from HOMEnhancements and Matthews Fan Company to keep fresh air circulating throughout your space. Never stop saving energy or money when you purchase a fan from HomElectrical!
Sources: Energy Star Ceiling Fan Basics