on 11/04/2015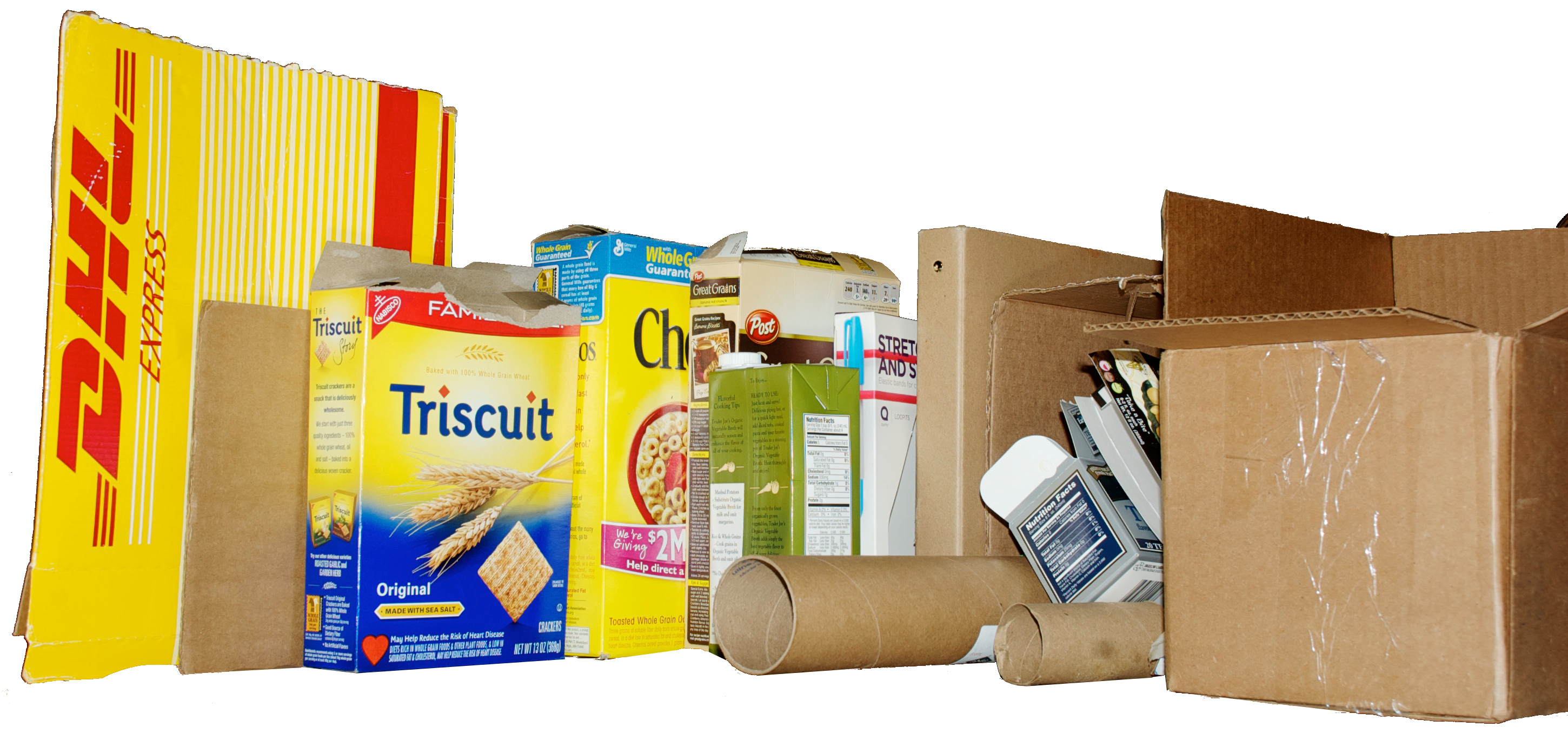 Do you buy anything online? Have you moved in the past year? Have you ordered a pizza recently? This is just a small sample of how people use cardboard on a day-to-day basis. Cardboard is a heavy-duty paper product made for a variety of reasons with various levels of strength and weight threshold.
The first mentions of cardboard in history were as early as the first or second century B.C. in Ancient China. The Kellogg Brothers (the cereal company) were the first company to use the modern paperboard cartons that we are familiar with. But despite all of cardboard's uses in business and commercial ventures, we are left to ask how cardboard can be recycled.
Don't Refuse to Reuse
The team at HomElectrical wanted to give you plenty of ideas of how you can repurpose cardboard. Warning: There are tens of thousands of ideas that you can find on the internet about reusing cardboard. Some of them are incredible, like this one. And then, of course, there are things like this that are just not even worth mentioning.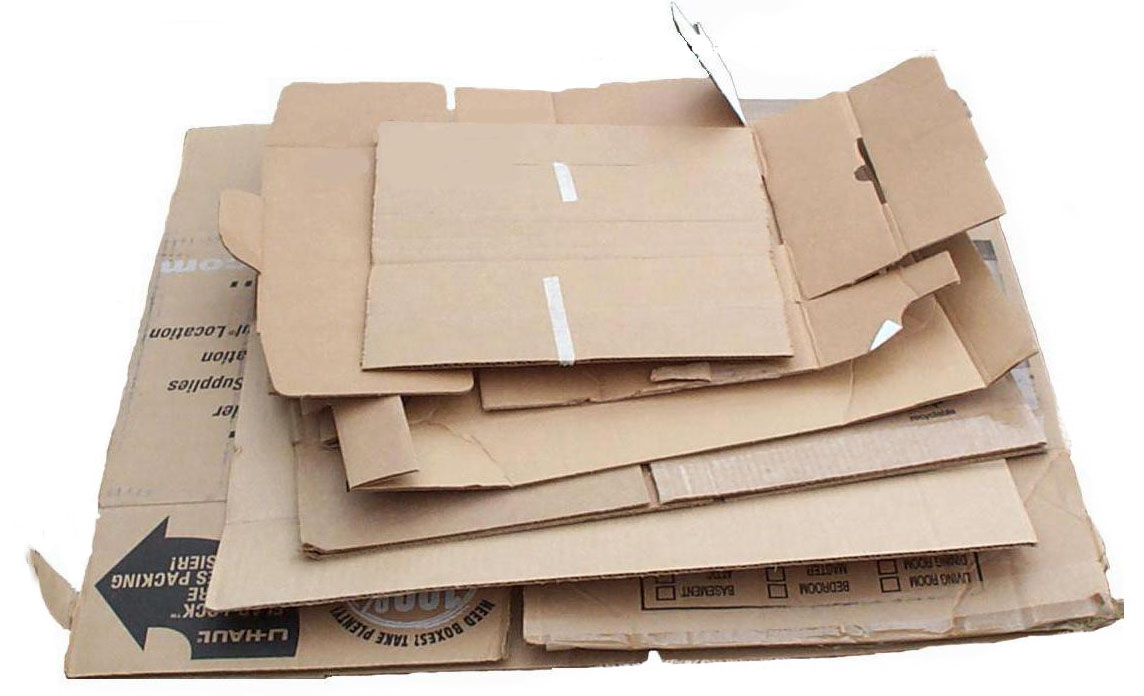 Here is a list of just some of the ways you can recycle cardboard!
Desktop Organizer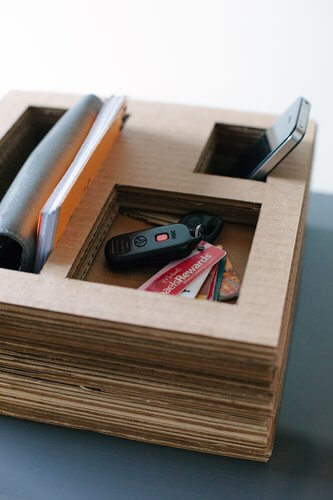 It's hard to find the perfect desktop organizer for all your belongings. Cell phones screens are getting larger while the phones themselves are getting thinner. Some people carry a lot of keys while others only have a few on their keychain. Some people use a large bowl or plate to keep all of their belongings in one place, but why not make something different?
Design for Mankind is a great site that provides really interesting design projects and their Desktop Organizer is a simple yet practical design that can easily be changed or customized to fit your specific needs. This is a great way to recycle cardboard, clear some space on your desk at your office or in your home, and craft something that is made to fit your lifestyle.
Smartphone Projector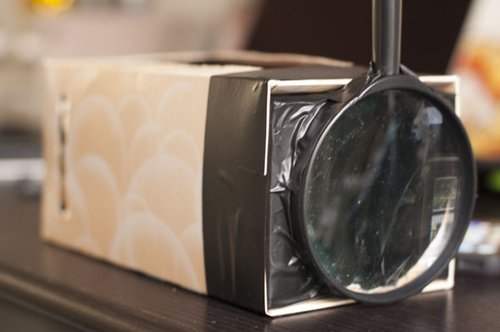 Do you ever want to show an awesome video or some great photos to friends or family but all you have is your phone? Most plans online call for a single box but this design has very little practicability. Most people want to project images over a large surface, rather than project an image around the size of a magazine.
Make Use of has a great cardboard box smartphone projector that uses two boxes and gives the user a much larger and much clearer image. For the best results, pop some popcorn and project one of your favorite films or television shows.
Cardboard Clock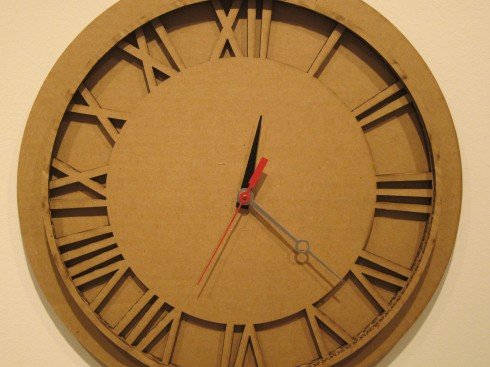 Do you have a wall in your home or office that would be a great place for a clock? Maybe the wall is an awkward space to fill. A regular sized clock might not look great in between two large paintings or you need a clock that fits the style of the room.
The great thing about cardboard is its versatility. You can get really creative with it. To build a cool cardboard clock all you need is a Clock Movement Kit that you can purchase pretty cheaply at Michaels or other craft stores.
Design your clock face, numbers, and hands out of cardboard to create a really cool and unique clock. It can be a great conversation piece when you are entertaining people at your house.
Donate Cardboard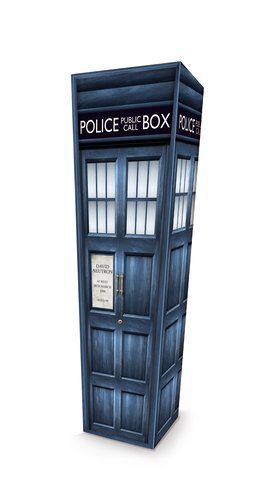 If you aren't the creative type, don't sweat it. One of the best things you can do with cardboard is donate it to people or organizations that recycle cardboard for greener purposes, such as environmentally friendly coffins. There are companies, such as CreativeCoffins, that not only use recycled cardboard to create earth-friendly alternatives, but they also allow for their customers to customize their coffin completely.
With a high-tech digital printer, the cardboard coffins can be decorated exactly however the customer wants. Other benefits of a cardboard coffin is that they allow natural decomposition to occur, which some people may prefer depending on their preference.
Stay Connected!
How do you reuse your cardboard? Show us or tell us on Twitter or Facebook!
We can't wait to see the creative ways you recycle cardboard!