Procter & Gamble 23124 Mr. Clean Multi-Purpose Cleaner w/Febreze - Meadows & Rain, 128 Oz.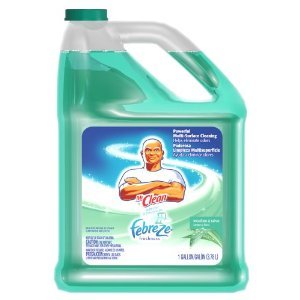 Comparable All Purpose Cleaner Products
Procter & Gamble 23124 Description
Concentrated multi-purpose cleaner efficiently cleans most home surfaces, including linoleum, tile, toilets, bathtubs, showers, and counters. Powerful ammonia-free formula is even capable of cleaning exterior surfaces, such as siding. Cleaner tackles grime as well as odor, leaving behind guaranteed Febreze Freshness while you clean. May be diluted up to 1/4 cup solution per gallon of water, for economic cleaning.
Sold As: Case of 4 Bottles
Bottle Size: 128 Oz.
Type: Concentrated, Liquid, Multi-Purpose
Scent: Meadows & Rain
Company: Procter & Gamble
Product Specification
Manufacturers Parts Number
23124
Procter & Gamble 23124 Reviews