Procter & Gamble Mr. Clean All Purpose Cleaner w/Febreze Lavender Vanilla 40 oz.
Procter & Gamble 12605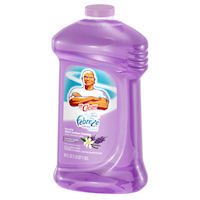 Comparable All Purpose Cleaner Products
Procter & Gamble 12605 Description
Mr. Clean Liquid Cleaner freshens your home while you clean, with it's added Febreze scent. Formula cuts through grime, dirt, grease, and other soils while elimination odors. Effective on many surfaces, such as linoleum, tile, toilets, bathtubs, garbage cans, doors, and more. Recommended dilution 1:4. Rinsing not required. Phosphate, chlorine, and ammonia free.
Sold As: Case of 9 Bottles
Bottle Size: 40 oz.
Type: Concentrated, Multi-Surface, Liquid
Scent: Febreze Lavender Vanilla
Weight: 26.85 lbs.
Company: Procter & Gamble
Product Specification
Manufacturers Parts Number
12605
Procter & Gamble 12605 Reviews