on 08/30/2017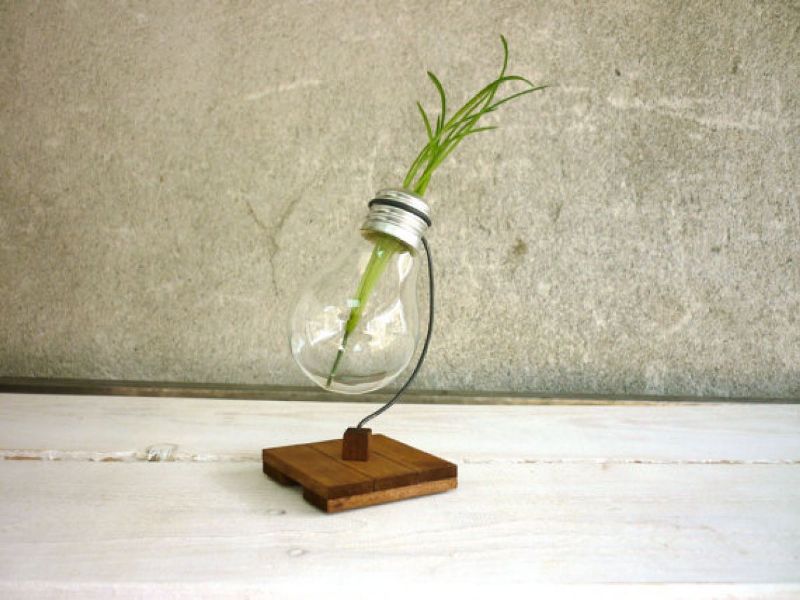 Over the years, an emphasis on recycling has become more powerful. More and more, we are seeing companies using recycle bins and motion sensors. We wanted to shed light on a few companies in the Atlanta area that are excelling in the recycling business and even taking it a step forward to upcycling.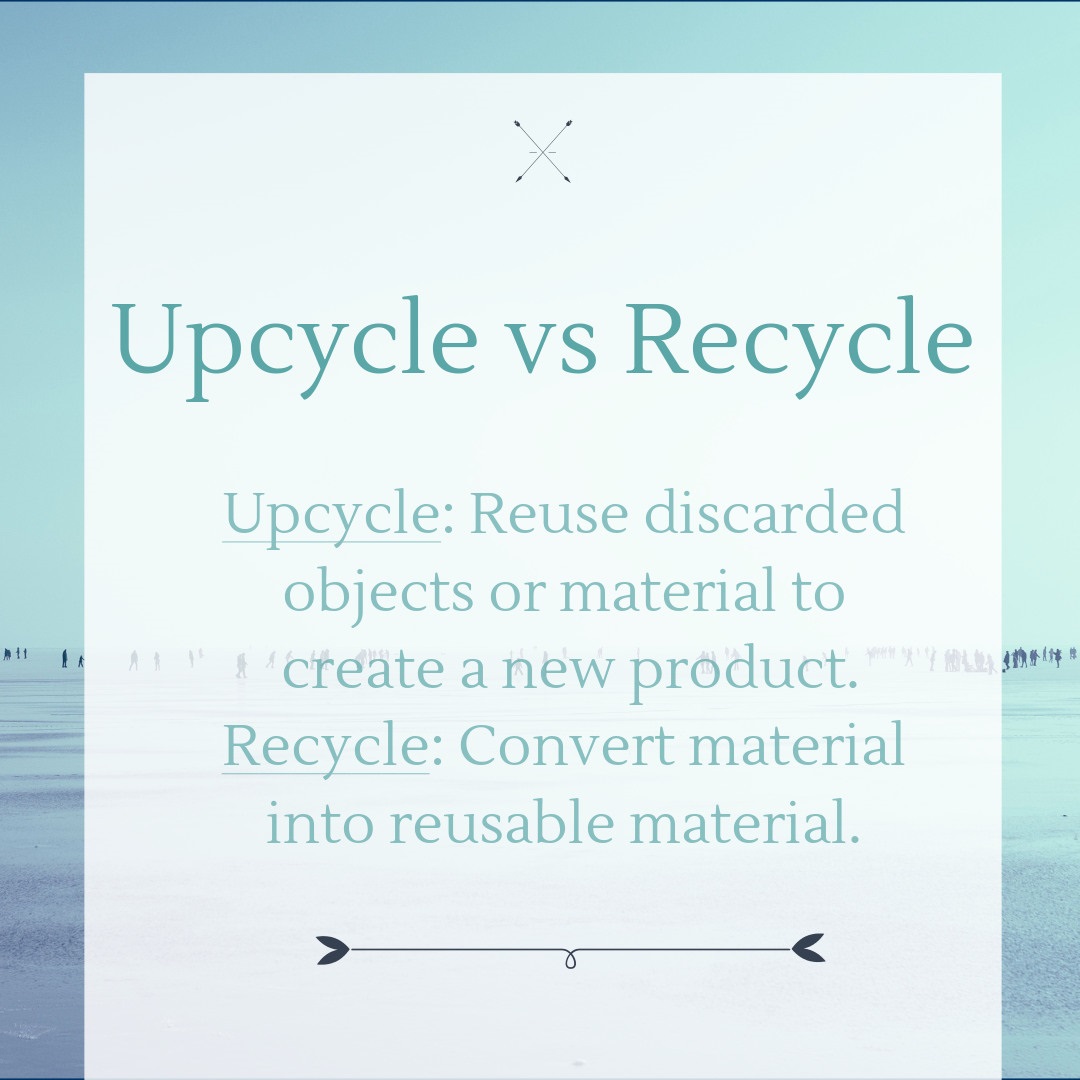 Beginning our journey, we have a non-profit company – Keep Atlanta Beautiful. Partnering with the city and county government, private industries, and local community groups, Keep Atlanta Beautiful works to restore the city to one of the most beautiful cities.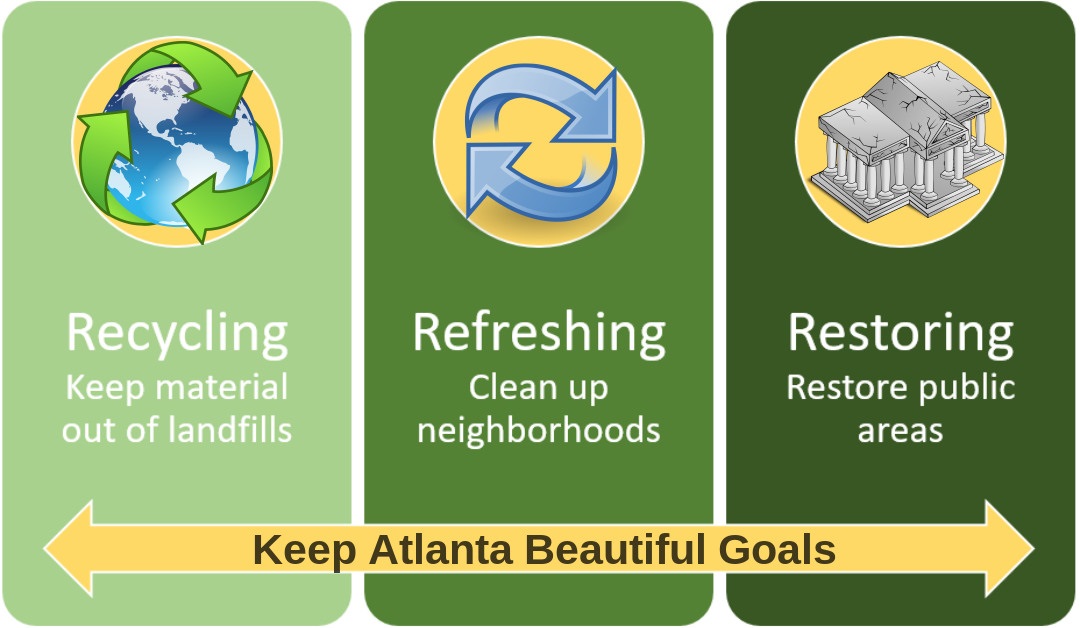 Recycling
One aim of Keep Atlanta Beautiful is to provide recycling solutions for the community. With two recycling center locations, they ensure that the items they collect will not end up in a community landfill. They provide paper shredding and recycling for electronics, Styrofoam, paint, textiles, metals, food-grade glass, and books.
Want to recycle and save money? Try creating your own rain water barrel to water your plants!
Refreshing 
To refresh the community, they work to solve littering problems and graffiti issues. To help decrease litter around the community, Keep Atlanta Beautiful provides free cleanup supplies to neighborhoods wanting to improve their community. Working with the Department of Public Works, they help communities order, install, and maintain trashcans – preventing littering options. Refreshing the city from graffiti, Keep Atlanta Beautiful provides free recycled paint for paint-overs in public spaces.
Fresh paint-over = More appealing environment
Restoring
The last goal of Keep Atlanta Beautiful is to restore depressed or unused areas of the community to increase use, community involvement, and capital for that area. By using these private funds to invest in these areas, this non-profit is creating a restored area for social interaction that is intended to increase community connections and an overall sense of pride. Get involved and upcycle your paper-based egg cartons into a board game, a fire starter, or a starter garden! I want to learn more about Keep Atlanta Beautiful!
Continuing our journey is Nobis Works. This company not only works to recycle and upcycle materials donated, but also provides job opportunities for people with disabilities and other employment barriers.

Nobis Works was started in1975. The non-profit was started by two women, Bobbie Knopf and Joyce Slaughter, who realized that opportunities for special needs students were very limited after high school graduation. This was when the founders reached out to Tommy Nobis – known for his devotion to the Special Olympics and people with disabilities. Nobis was an Atlanta Falcons All Pro Linebacker, and spent his life after football helping people with disabilities find meaningful employment.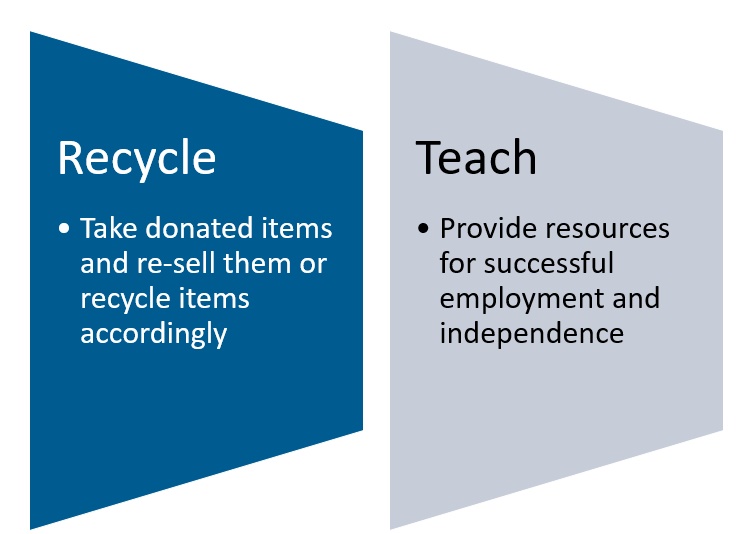 Nobis Works receives donated items from the local community as well as from local companies. In 2012, Nobis Works estimated that they would receive $4 million in donated and recycled materials. Most of these donations come from Cobb EMC – a local electric company. Cobb EMC donates nearly 20,000 pounds of mixed electronics, including scrap meters, load management switches, and computers to Nobis Works. Nobis works takes these items and either re-sells the items in their current state or they break down the items and sells them piece by piece to smelters.
At Nobis Works, they strive to provide meaningful employment to people who are deaf or hard of hearing, people who are blind or visually impaired, people with mental illness, people on the Autism Spectrum, people with physical disabilities, and people with developmental disabilities. Teaching these individuals through employment, increases their chances of being more independent in the future and makes their success rate higher. I want to learn more about Nobis Works!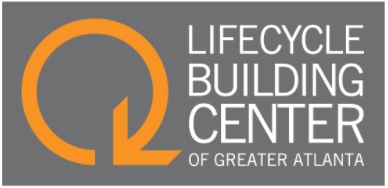 The last location on our journey through Atlanta area companies is Lifecycle Building Center. LBC (Lifecycle Building Center) is a 501(c)3 non-profit organization, meaning this organization is recognized by the IRS as being tax-exempt. LBC's mission is to make the building industry more efficient and sustainable.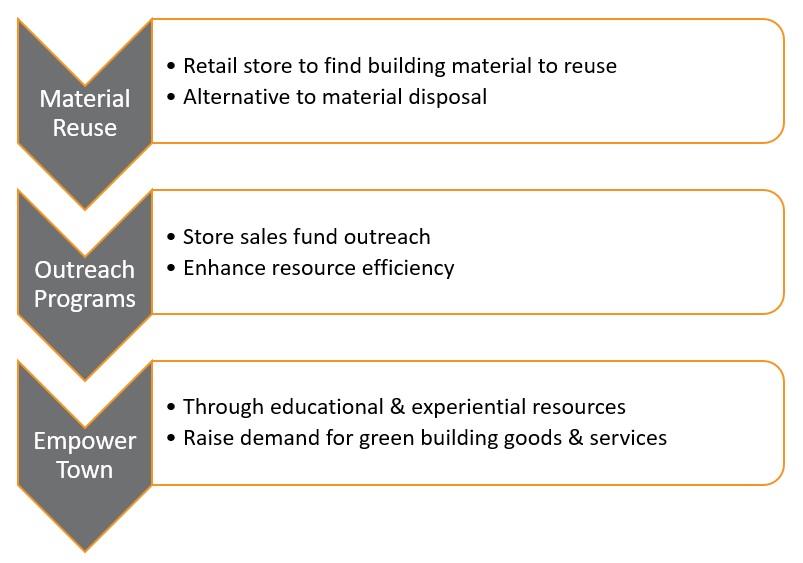 Lifecycle Building Center operates a retail store (warehouse) of building materials to generate income that is used for grassroot community outreach programs. Their prices are between 50 - 85% less than the typical retail cost of new material. Their products range from cabinets and flooring to windows and doors. They do have a specific list of items they accept for donation. View the list here.="http:>
We share some great upcycling ideas here!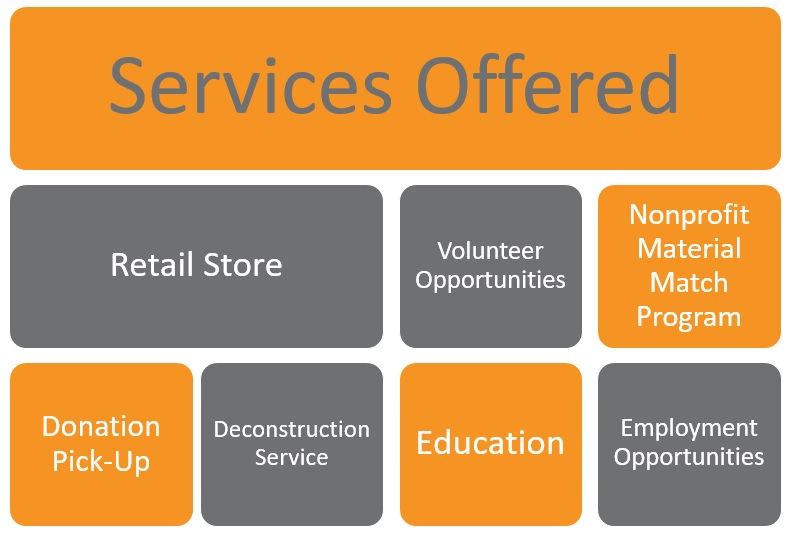 One distinguishing feature of LBC's efforts is their Nonprofit Material Match Program. This program provides free resources to other nonprofits, schools, community groups, and houses of faith every year. They do have an application for receiving these materials. Based upon successful fulfillment of mission, strength of need, alignment with LBC's mission, availability of requested materials, and project timeline, a grade of 0-5 will be given. This grade will determine how much, if any, store credit will be provided to the applicant. I want to learn more about Lifecycle Building Center!
These companies are not the only ones in the Atlanta area working to create a more useful and healthy environment to live in. Recycling – whether it is placing a plastic bottle in a recycling container or buying used instead of new – helps our community landfill shrink in size and helps keep our environment healthy.

Stay Connected
Let us know how you are working to help make your community better! Visit us on Twitter or Facebook!