Dymon Insect Shield Repellent Wipes 100Ct, 8x10
ITW Dymon ITW91401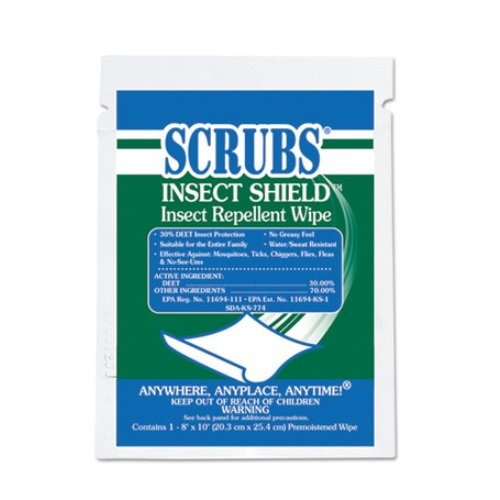 Comparable Pesticide Products
ITW Dymon ITW91401 Description
The 8" x 10" Insect Shield Insect Repellent protects your skin from pesky insects that carry those unwanted potential diseases. The insect repellent is effective against biting flies, chiggers, fleas, gnats, mosquitoes, and ticks. Grease-less, residue-free formula allows you to apply without losing your grip on whatever you may be carrying. Water-resistant and salt-resistant properties ensure protection. Individual wrapping of wipes protects wipes from contamination and evaporation so that they constantly maintain consistency.
Size: 8" x 10"
Pest Type: Biting flies, chiggers, fleas, gnats, mosquitoes, and ticks
Packaging: Individually Wrapped to prevent drying out over time.
Product Specification
Application Type
Insect Repellent
Manufacturers Parts Number
ITW91401
Manufacturer Description
Provides the power of 30% DEET in a handy wipe. Keeps disease-carrying insects at a distance; effective against mosquitoes, ticks, chiggers, flies, fleas and no-see-ums. No greasy feel. Water/sweat resistant. Individually wrapped.
ITW Dymon ITW91401 Reviews