1590 N Roberts Rd. #110
Kennesaw, GA 30144
media@homelectrical.com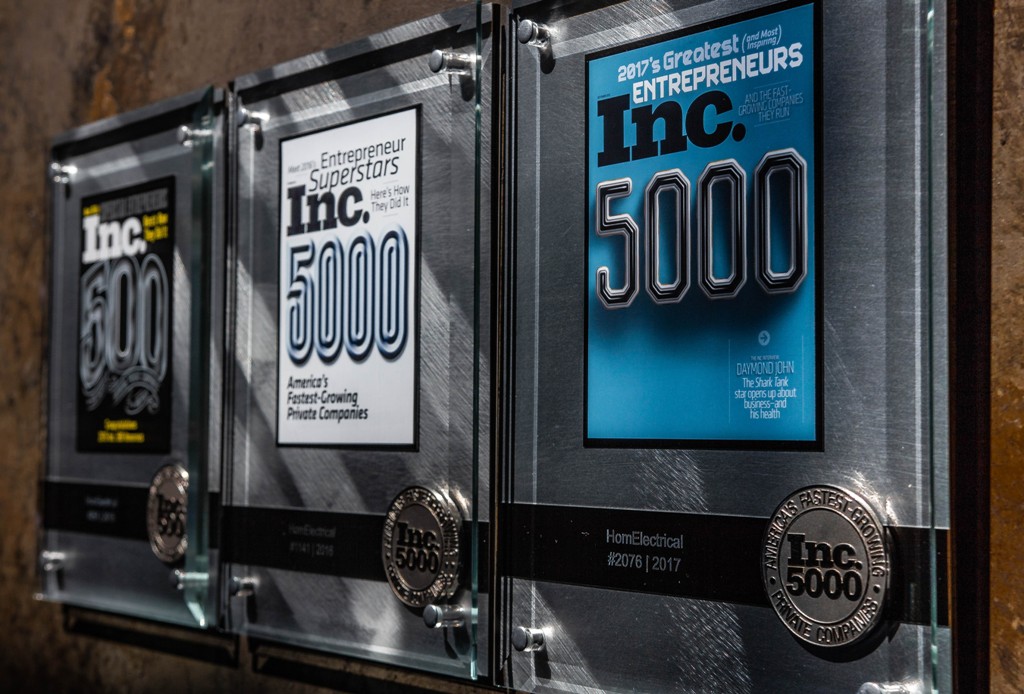 HomElectrical Maintains Momentum for Fourth Consecutive Year!
HomElectrical ranks No. 2737 on Inc. Magazine
KENNESAW, GA -- August 14, 2018 -- HomElectrical, a leading supplier of electrical and lighting supplies, has been named on the 2018 Inc. 5000 list as one of the fastest growing private companies in the United States. This is the fourth consecutive year HomElectrical has received this honor.
The Georgia based company ranked No. 2737 overall on the 37th annual Inc. 5000 list of the nation's fastest growing private companies.
Product Expansion:
Since HomElectrical's first appearance on the list in 2015, the company continues to grow and now focuses on expanding to better serve the growing needs of their customers.
David Lu, the CEO of HomElectrical says, "Not only will these expansion opportunities help us position our company for continued growth but will also enhance our business's selling power. In an effort to adapt to our customer's changing needs, our focus on company expansion is focused completely on better serving our customers."
The online retailer continuously focuses on developing relationships with leading vendors to bring their customers trusted brands at competitive prices.

By increasing their warehouse capacity by over 50% since first opening their doors in 2011, HomElectrical increases online fulfillment as well as adding the latest technology available on the market today.
Andrea Nastase, Purchaser for HomElectrical says, "In order to succeed in a highly competitive market, our company works hard to plan the best competitive pricing strategy. With an ever-growing number of brands and products on our site, we want our customers to have the best online buying experience."
Company Expansion:
In only a few short years HomElectrical has established itself as a household name. The company strives to simplify the online buying process by providing an abundance of products and an easy-to-use website.

"We will always be committed to customer service and are excited to see what's in store for the company this year," says Lu.
Inc. 5000 Honors:
| | | |
| --- | --- | --- |
| Year | Ranking | Growth (%) |
| 2018 | No 2737 | 152% |
| 2017 | No. 2076 | 177.02% |
| 2016 | No. 1141 | 339.96% |
| 2015 | No. 251 | 1,769.63% |
Inc. Magazine is a highly respected publication in the greater business community that portrays a comprehensive look at America's independent entrepreneurs. Inc 5000's list provides exposure for many well-known companies such as Yelp, Fitbit, and Pandora.
"We are thrilled to make the Inc. 5000 List for a fourth year in a row. None of this would have been possible without the continuous diligent work of our team, and the support from our loyal customers," says Lu.
Improving Processes:
HomElectrical constantly integrates technology innovations as part of their commitment to customer satisfaction by providing quality brands that support energy-saving practices.
Collean Cooke, Digital Assets Manager at HomElectrical says, "This past year we've been really committed to improving overall site usability with the end-user in mind, especially on the mobile front. We completely revamped our mobile layout in an effort to simplify site navigation and to be more user-friendly overall."
This online retailer focuses on green initiatives, while seeking to provide businesses with products that are not only energy efficient, but help promote a sustainable future.
HomElectrical seeks to provide businesses with products that can reduce energy consumption while lowering their carbon footprint.
About HomElectrical:
HomElectrical is a wholesale distributor of commercial electrical supplies and LED Lighting, offering over 50,000 electrical products at competitive prices. With over hundreds of trusted brands, HomElectrical pushes the envelope and seeks to provide high-quality electrical products and LED lighting that focuses on the green initiative. They are constantly evaluating their business practices to reduce energy consumption and become dependent on renewable energy sources. They are committed to putting the needs of the customer first, and providing businesses with efficient products that meet their individual needs.