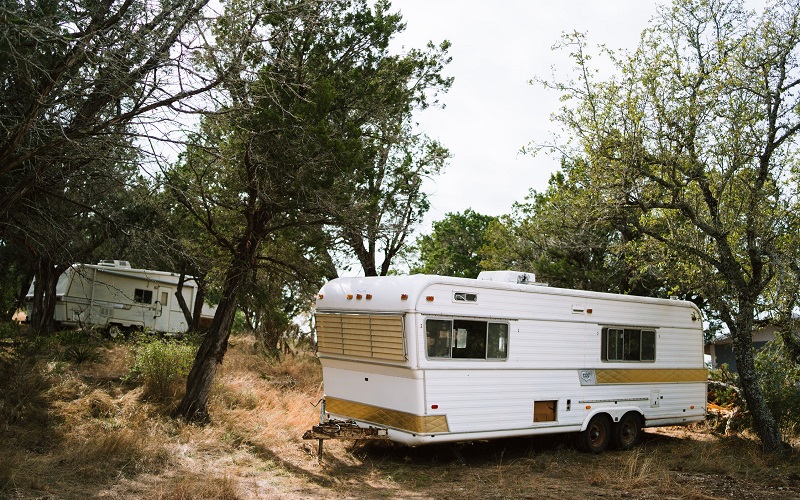 Why camp in hot, sweaty tents when you can camp in a stylish RV or trailer? Of course, it's hard to enjoy your camping experience without a proper HVAC system. You might as well go back to the tent! In this guide, we explain the type of vehicles used for camping and how to best heat and cool them.
RVs vs. Trailers
Many people use these words interchangeably, but RVs and trailers differ in their build. An RV, or Recreational Vehicle, includes a space for living, kitchen, and bedroom. Is an RV a trailer? For some types, yes. For others, no. Not every trailer is an RV, and not every RV is a trailer. By definition, a trailer does not run on its own and has no steering wheel or engine. Rather, it must attach to the back of a motor vehicle and get pulled.
When deciding how to heat or cool an RV or trailer, consider whether or not the vehicle runs on its own and how long the vehicle stays in one place.
Motorized RVs
Cooling:
Most RVs use a rooftop air conditioner to cool the inside. This air conditioner can work many ways, including ducts or simply blowing air directly. How the air conditioner works depends on the type of RV and its size. Larger RVs tend to use ducts, while smaller ones blow air directly. The air conditioner uses refrigerant, evaporator coils, a compressor, and a condenser to run.
Heating:
To heat the RV, the options include: a heat pump or a propane furnace. The heat pump works best in temperatures over 45 degrees Fahrenheit, so choose this option when camping in slightly chilly areas. Do not try to use the heat pump in temperatures under 45 degrees. The heat pump likely will not heat the RV to the set temperature and may shut off entirely.
If camping in a colder area, use the furnace. Oftentimes the furnace turns on automatically if the heat pump alone cannot do the job. Because the furnace uses a lot of propane, be careful with how often you use it. Propane poses a danger if inhaled because it produces carbon monoxide, so make sure the carbon monoxide alarm works. Get the right size unit to efficiently heat the RV.
Thermostat/climate control
Many RVs use a climate control panel which allows temperature change of the entire RV from one place. This typically divides into two zones: one for the living room area in the front and the other for the bedroom area in the back. This allows you to only turn on the system for the specific zone you wish to use.
Trailers
Trailers, which include certain types of RVs as well as mobile homes and offices, can use a different HVAC method from their motorized counterparts. If the trailer will stay in one place for extended periods of time, consider more permanent systems.
Cooling:
To cool a trailer, a window unit keeps it simple but does not evenly cool the space. To more evenly and efficiently cool the trailer, opt for a mini split system or a packaged air conditioner. The trailer may also come with ducts, which allows installation of a central system.
Heating:
To heat a trailer, use a furnace just like in a motorized RV. Use either an electric furnace or gas furnace An electric furnace works as an alternative to storing fuel. Electricity costs more each month than gas, but an electric heater pays off if in warmer areas with lower usage. For a less permanent heating solution, opt for space heater.
Maximizing Cooling and Heating:
Save more by helping the RV or trailer to stay cooler or warmer to lower use of the HVAC system.
Insulate the RV.
Close vents in areas not currently in use.
Use the Earth's natural cooling method and park in shade during the summer.
Check the placement of the temperature sensor and change if necessary. For example, a sensor located on the outside of the RV will show higher temperatures than the inside of the camper.