on 09/05/2018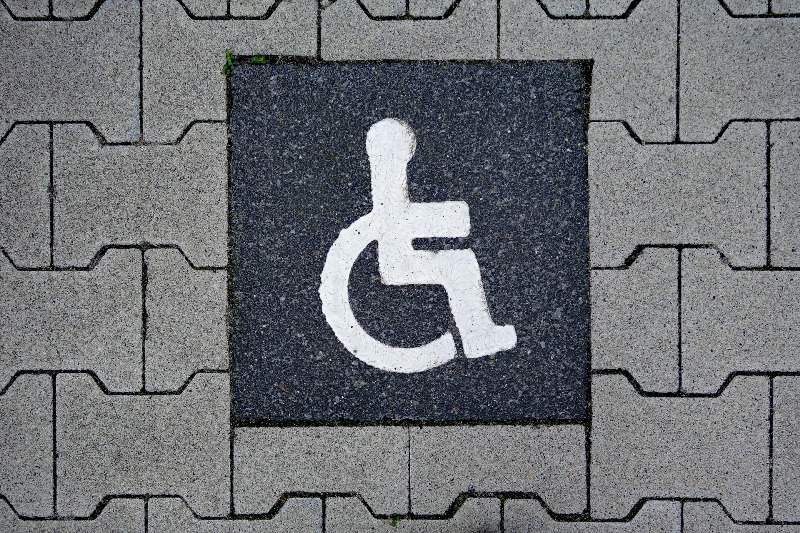 Did you know that more than 2.5 million people suffer from visual impairment and blindness in the United States? According to the American Disabilities Act (ADA), passed in 1990, restroom signs are required to help those with visual impairments to locate the correct restroom.
These signs not only require braille and text, but they are required to be mounted at specific locations to be ADA compliant (ie. 50 inches from the floor). These mounting heights are to ensure that disabled individuals can easily see them without any obstructions.
Bathrooms are also required to have high contrast signs, so that the visually impaired can easily identity them, as well as several other accessibility guidelines that public restrooms must follow. High contrast signs utilize two colors, normally one darker color and one lighter color (ie. black and white or blue and white).
In this guide, HomElectrical will walk you through some of the most common ADA compliancy standards.
What is the American with Disabilities Act?
The ADA helps regulate construction in buildings to ensure they are designed with accessibility in mind. ADA compliancy stretches across various facets, that include:
Residential dwellings

Assembly areas (ie. stadiums and arenas)

Medical care facilities

Correctional facilities
Upon initial design plans, in order to be ADA compliant, contractors and business owners must provide people with disabilities accessibility to the following areas:
Entrances/ Walkways

At least one restroom for each sex or a single unisex restroom

Public telephones

Drinking fountains

Parking and storage areas
Formally known as the ADA Accessibility Guidelines for Buildings and Facilities in 1991, the 2010 ADA Standards are the latest enforced guidelines. This law applies to any and all facilities (either newly constructed or renovated) on or after March 15, 2012. 
ADA Restroom Sign Requirements
ADA compliant signs are required in every standing building (either newly constructed or renovated). However, ADA sign requirements vary from state to state, and any state can modify their building codes with approval from the Department of Justice.
These codes are then enforced by the state officials. Always be sure to check with your local building authority for amendments and regulation changes.
Review the ADA compliancy guidelines here.
ADA Compliant Mounting Height
All ADA compliant signs must be mounted between 48 and 60 inches from the floor. For single doors, signs should be mounted to the wall closest to the latch of the door. If for any reason there is not an acceptable location to mount the sign on a designated wall, the sign can then be mounted on the nearest adjacent wall.
For double doors opening outward, signs can be mounted next to either door on the latch side.
For inward swinging doors, the sign can be mounted on the door if three of the following criteria is met:
The door automatically closes.

The sign is mounted on the push side of the door.

The door does not come equipped with a "hold-open" device.
For outward swinging doors, the sign should be mounted to the wall outside of the door swing (18 inches away from the door and wall).
California Title 24 ADA Compliance
Title 24 standards vary from state to state. For example, if you reside in California, Title 24 requires the following restroom signs:
Restroom Type

Sign Dimensions

Sign Shape

Women

¼" thick, 12" diameter circle

Men

¼" thick, 12" long triangle

Gender Neutral

¼" thick triangle inside a 12" diameter circle

 
Common ADA Restroom Compliance Mistakes
Mounting height is especially important to those who use wheelchairs since they often have a limited reach.  The 2010 ADA standards set specific guidelines to support individuals who are ambulatory, require the use of a cane, walker, or crutches.
While these mounting standards are specifically designed to aid the disabled, their universal design features offer benefits to a wide range of users, including children, older people, and individuals who are heavier set.
It is common for older buildings to fail to comply to all of the ADA guidelines. Here is a list of six common mistakes:
1. Mirror Height
Mirrors typically are more than 40 inches above the floor.  This is about 10-18 inches too high for a person in a wheelchair. ADA regulation stipulates mirrors must be mounted with the bottom edge of the surface no higher than 40 inches above the floor while the top edge is at a minimum height of 74 inches from the floor.
2. Toilet Stalls
A common mistake found in restrooms is the mounting height of the toilet. Many restrooms fail to give an ample amount of room for ease of use and accessibility.  According to 2010 ADA standards, the toilet must be a minimum of 60 inches from the sink as well as all flush controls need to be located on the open side of the toilet. This is designed so the individual does not have to reach over the toilet to flush.
3. Grab Bars
Grab bars are used so disabled individuals can easily transport themselves to the toilet from their wheelchair. These bars must be at least 36 inches long and be mounted between 33 to 36 inches from the floor. There should also be a gripping surface of at least 1.25 inches from wall, as well as be able to withstand at least 250 pounds of pressure. A lot of restrooms don't comply with this rule and will install the toilet paper dispenser too close to the grab bar.
4. Sink Height
A common problem that you will find in older buildings is the sink is too high or too close to the toilet. According to the 2010 ADA updates, sinks must be mounted no higher than 34 inches from the floor with a knee clearance of 27 inches high, 30 inches wide, and 11 to 25 inches deep. Prior to the 1991 ADA, mandates did not require these distances causing many of the older buildings to run into trouble.
5. Doors
It is very common in non-compliant restrooms for doors to swing inward instead of outward, making it difficult for a person in a wheelchair to open and close the door easily. For this reason, doors must open easily with very little force and have easy-to-grab handles.
Doorways are required to be at least 32 inches wide with the door open at 90 degrees. Hallways should offer a clearance of at least 80 inches, and drinking water fountains must have a knee clearance of no more than 36 inches with a spout located at the front of the fountain.
7. Trash Receptacles
A common mistake people make is by adding floor trash cans, which can be a hazard for someone in a wheelchair. Because of this, we recommend a recessed trash receptacle or combination paper towel dispenser/trash receptacle as a better solution.
However, an even better and energy efficient solution is to invest in a wall mounted hand dryer. ADA guidelines state that these fixtures must be mounted more than 37 inches from the floor to offer enough knee clearance and be no more than 4 inches from the wall.
ADA compliant hand dryer mounting heights:
| | |
| --- | --- |
| Type | Mounting Height |
| Men | 45" (114 cm) |
| Women | 43" (109 cm) |
| Teenagers | 41" (104 cm) |
| Children | 35" (89 cm) |
| Disabled | 37" (94 cm) |
Frequently Asked Questions (FAQs)
Q. Do all signs need to be ADA compliant and have Braille letters?
No. Parking signs, temporary signs, and building address signs do not need to be ADA compliant, as well as any temporary sign (used for 7 days or less).
​Q. What rooms are required to have ADA signs?
According to the 2010 ADA standards, all permanent dwellings, rooms, and spaces are required to have ADA compliant signs. These spaces include: restrooms, closets, and other areas that don't change their function.  

For example, classrooms or conference rooms may change their function and therefore do not require ADA signs. But, remember that accessibility in building design is extremely important, so even if an ADA sign is NOT required, it's always a good idea to provide one anyway.
Q. Do I have to change my existing ADA signs?
Not necessarily. If your current ADA compliant signs follow a previous standard, you are not required to update them. However, if the facility is newly constructed or altered in any way, all signs must be updated to follow the most current ADA guidelines.
Stay Connected!
Do have any questions regarding ADA building standards? Let us know in the comments below!
If we don't know the answer, we'll find it for you!
For blog updates, product reviews, free giveaways, funny memes, and more, follow us on Facebook and Twitter!
And if you enjoy architecture and all things LED lighting, follow us on Instagram!
Stay up to date on regulation changes in your area: