on 01/26/2021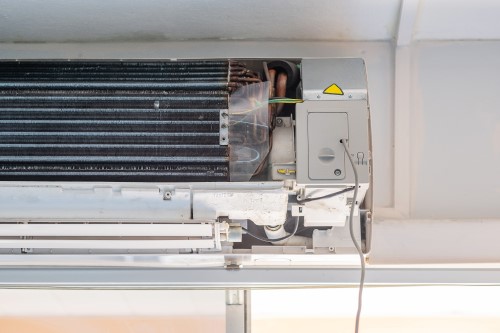 What is a ductless mini split system?
A ductless mini split system provides heating and cooling without the need for air ducts. Instead, ductless mini splits use a refrigerant line to transfer heat between the indoor unit and outdoor unit.
You must have both indoor and outdoor units for the system to work. An air handler cannot provide heating or cooling without a condenser/heat pump.
Why would I go with a ductless mini split system instead of a ducted air conditioning system?
Installing a central air system costs a pretty penny, so mini split systems offer a cost-effective alternative.
Because ductless mini split systems don't require ductwork, less energy is wasted. According to the Department of Energy, "duct losses can account for more than 30% of energy consumption for space conditioning."
Mini split systems also require less space. The dimensions of a mini split condenser usually measure smaller than central air condenser.
With a multi-zone mini split system, the user wields unmatched control by controlling the temperature in each space using an air handler.
What are the parts of a ductless mini split system?
The air handler, or indoor unit, facilitates movement of the air within the room. It works in conjunction with the condenser or heat pump to transfer warm air from one place to another.
A mini split condenser, an outdoor unit, provides only cooling. They typically find use in areas with warmer climates.
A mini split heat pump, another type of outdoor unit, combines a condenser and evaporator to provide the additional option of heating.
The conduit houses the refrigerant line and necessary wiring connecting the air handler and the condenser/heat pump.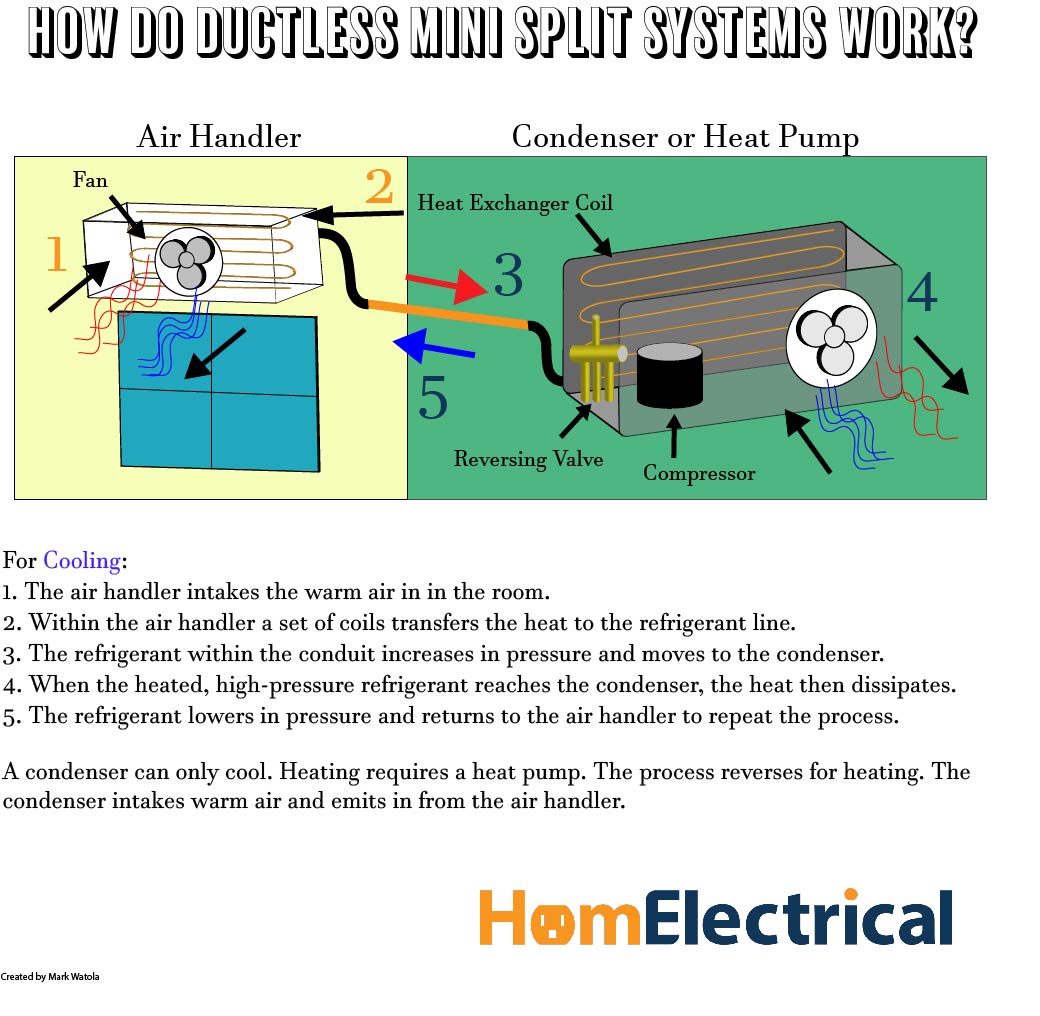 For a more in-depth explanation on how ductless mini splits work check out this video.
Do I need a condenser for every air handler?
Single-zone mini split systems include one air handler and one condenser. One air handler can regulate the temperature in one room or space.
Multi-zone split systems include two to four air handlers and one condenser. Place the air handlers in multiple rooms which all connect to the one condenser.
Some condensers can manage up to eight air handlers.
Where do I install air handlers?
Place air handlers in spaces that require heating and cooling.
Where do condensers/heat pumps install?
Condensers and heat pumps install outside but near the air handler. The length of the lines and wires set the limit of distance between the two units.
Generally, an air handler cannot install on one end of the house while the condenser or heat pump is on the other.
Condensers and heat pumps can install on the ground atop a cement pad or wall mounted with bracket, like this one.
How do you control ductless mini split systems?
Usually, air handlers include a remote control to adjust the temperature.
MrCool offers an IR Wifi Thermostat for its ductless mini splits. Consider this if you don't want another remote to lose.
MrCool also offers a mobile application to use a phone or mobile device as a remote.
How long do mini split systems last?
Mini split systems typically last an average of 20 years.
I want to upgrade my current mini-split system. Can I replace just the air handler or the condenser?
Yes, but HVAC professionals DO NOT RECOMMEND replacing only the air handler or condenser/heat pump. Best practice dictates replacing both simultaneously. The air handler is designed to work with its designated condenser/heat pump.
Replacing one and not the other may compromise the integrity of the units and could potentially incur more costs in the long term.
Can I install a mini-split system myself?
For the most part, no. Installing HVAC units requires special skills and training held by licensed HVAC technicians, such as certifications for handling refrigerant.
However, MrCool offers a DIY series aimed at the at-home handyman. The series includes precharged lines and installation that does not require special tools or training. An electrician is still required to wire the system to the household.
If you need help deciding on which mini-split system is right for you, check out this quick guide and then contact us!
Sources:
https://www.energy.gov/articles/energy-saver-101-infographic-home-cooling
https://www.energy.gov/energysaver/ductless-mini-split-air-conditioners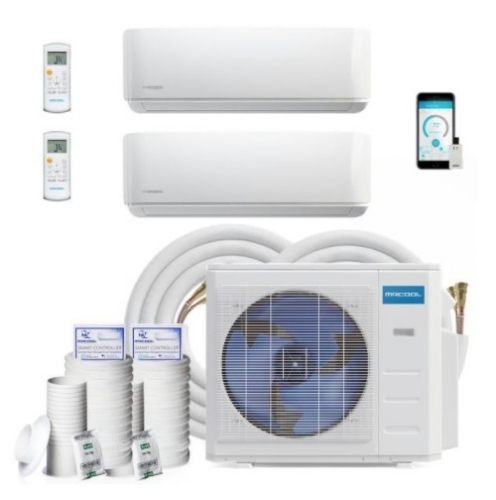 Vendor Minimum Order Quantity: