Jobox 72" x 24" x 27 3/8" Jobox Steel Industrial Site Vault
Jobox 1-658990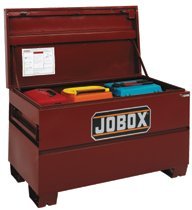 Comparable Tote Box Products
Jobox 1-658990 Description
The site-vault security system is one padlock, push aluminum lock bar left to lock and to unlock. This tote box is large enough to fit tool around 23.20 cubic feet. The industrial site vault features a fork lift accessible from all sides.
Capacity Vol.: 23.20 cu ft
Width: 72 in
Depth: 24 in
Height: 27 3/8 in
Material: Steel
Product Specification
Manufacturers Parts Number
1-658990
Manufacturer Description
Jobox Steel Industrial Site Vault 72" x 24" x 27 3/8"
Site-Vault Security System - one padlock push aluminum lock bar left to lock and to unlock. EZ Loader Skid Bolsters - fork lift accessible from all sides
Capacity Vol.: 23.20 cu ft
Depth: 24 in
Height: 27 3/8 in
Material: Steel
Width: 72 in
Weight: 215 lb
Jobox 1-658990 Reviews