American Dryer 500W eXtremeAir EXT High-Speed Hand Dryer, 100-240V, Black Graphite
American Dryer EXT7-BG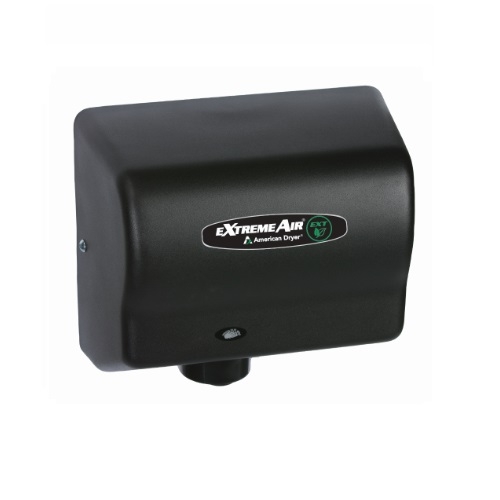 American Dryer presents The eXtremeAir EXT high-speed hand dryer. With ECO no heating technology, this hand dryer is the most efficient and environmentally-friendly choice out there. Shop our full selection of American Dryer at HomElectrical.com!
Color / Finish

In stock
Usually Ships 3 to 7 Business Days
Comparable Hand Dryer Products
American Dryer EXT7-BG Description
American Dryer 500W eXtremeAir EXT High-Speed Hand Dryer, 100-240V, Black Graphite Features:
Provides adjustable speed, energy efficiency, and sound
Sound adjustment from 83-69 dB
Speed adjustment of 19,000-10,000 LFM
Ideal for sports stadiums, schools, library's, and more
Adjustable wattage of 300-500W
Can be connected to most voltage from 100-240V
5 year warranty - includes same day factory repair or replacement shipment parts
Dimensions: 5.625"L x 10.125"W x 9.75"L
Certifications: CE, cULus Listed, RoHS Compliant, OSHA
A single phase dedicated 15 amp or 20 amp electrical line is required for installation
**Dryers must be installed by a licensed electrician
Product Specification
Manufacturers Parts Number
EXT7-BG
Maximum Amperage
2.3 Amp, 4.5 Amp
Manufacturer Description
The eXtremeAir eXt high-speed hand dryer with ECO no heat technology is the most efficient, environmentally-friendly ever! The ECO uses a high-velocity air stream to dry hands in an average of 12-15 seconds while using only 500 – 300 watts of adjustable power and standby power of less then 1 watt! Because of the low power consumption, it allows you to install up to 3 eXtremeAir eXt dryers on one dedicated breaker.
American Dryer EXT7-BG Reviews