Jobox 36"X20"X19 1/2" Steel Industrial Site Vault
Jobox 1-652990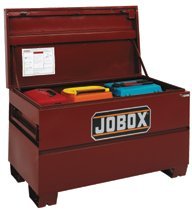 Comparable Tote Box Products
Jobox 1-652990 Description
The unique storing box is provides a security system for any material or tools needed to be stored. It features one padlock , push aluminum lock bar left to lock and to unlock. The skid bolsters have a fork lift accessible from all sides.
Capacity Vol.: 5.80 cu ft
Width: 36 in
Depth: 17 in
Height: 19 1/2 in
Material: Steel
Product Specification
Manufacturers Parts Number
1-652990
Manufacturer Description
Jobox Steel Industrial Site Vault 36" x 20" x 19 1/2"
Site-Vault Security System - one padlock push aluminum lock bar left to lock and to unlock. EZ Loader Skid Bolsters - fork lift accessible from all sides
Capacity Vol.: 5.80 cu ft
Depth: 17 in
Height: 19 1/2 in
Material: Steel
Width: 36 in
Weight: 95 lb
Jobox 1-652990 Reviews