American Dryer 1400W Advantage AD Hand Dryer, 100-240V, Stainless Steel
American Dryer AD90-SS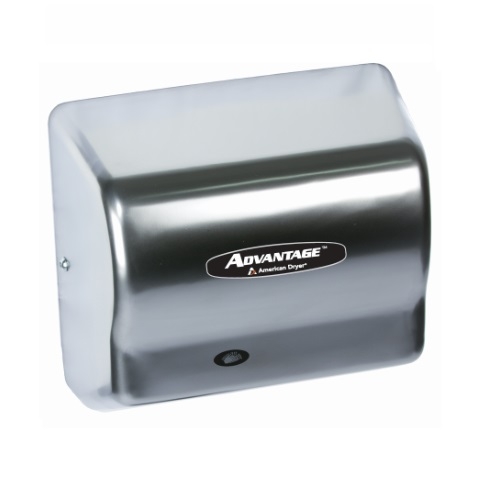 American Dryer's Advantage series is a perfect replacement for traditional hand and hair dryers, supplying more power and features in a simple compact design. Shop our full selection of American Dryer hand dryers and more at HomElectrical.com today!
List Price: $409.50
Let's Make a Deal
Call Us 1-888-616-3532
Color / Finish

Brushed Stainless Steel

sku

ADR-AD90SS
In stock
Usually Ships 3 to 7 Business Days
Comparable Hand Dryer Products
American Dryer AD90-SS Description
American Dryer 1400W Advantage AD Hand Dryer, 100-240V, Satin Chrome Features:
Can be connected to any voltage ranging from 100-240C
Designed with damper-resistant screws and arie intake vents are shielded making it vandal resistant
Contains 4,800 RPM automatic thermal protector
Smart sensor allows for ultra energy-efficient with ON/OFF controlled sensor with the presence of hands and standby only using 1 watt
Has a dry time of 25 seconds
Optional hair drying option of 80 second dry time
Has a 5 year warranty
Dimensions: 5.625"L x 10.125"W x 9.75"L
Certifications: cULus Listed, GSA, OSHA
A single phase dedicated 15 amp or 20 amp electrical line is required for installation
**Dryers must be installed by a licensed electrician
Product Specification
Color / Finish
Brushed Stainless Steel
Manufacturers Parts Number
AD90-SS
Maximum Amperage
12.5 Amp, 6.5 Amp
Manufacturer Description
Universal Voltage: The Advantage AD series can be connected to any voltage from 100-240 volts, 50/60Hz. The dryer configures itself to your voltage, making installation easier. Heavy-Duty, One-Piece Cover Options: Flame-retardant white ABS Steel with white epoxy finish (M) Steel with black graphite epoxy finish (BG) Steel with satin chrome finish (C) Stainless steel with #4 brush finish (SS) Vandal Resistant: Tamper-resistant screws secure cover to base. Air intake vents are shielded for additional safety. Motor: Heavy duty universal motor. 1/8 HP, 4,800 RPM. Automatic thermal protector. Smart Sensor: Ultra energy-efficient, microprocessor controlled sensor turns dryer on when hands are under the outlet for up to 35 seconds. Standby power is only one watt. Features RoHS compliant lead-free design. Hair Drying Option (H): When the automatic sensor is activated, the dryer will stay on for an 80-second cycle to dry hair. The fixed nozzle is angled away from the wall for comfortable hair drying. Heating Element: Constructed of NiChrome resistance wire with thermal protector. Heating element operates in the black range for maximum life. 5-year Limited Warranty: Includes same-day factory repair or part replacement. See owner's manual for details.
American Dryer AD90-SS Reviews