on 01/11/2017
Are you looking to retrofit your aging T12 Fluorescent fixtures to LED tubes? This buyer guide will help you navigate through the endless options of available LED tubes on the market. Most new T8 LED tubes are designed to also work with T12 linear fixture.

There are technically four options available to you, but only two options that you should honestly consider.
Hybrid LED Tubes
The Hybrid T8 LED Tubes are the newest, simplest and easiest tubes to choose from. To us, they make the most sense as these tubes can be configured to either by-pass the ballast, or plugged in into your current T12 fixtures with the magnetic ballast in place.
Although, you have the option to run these LED tubes with the ballast, we highly recommend that you remove the ballast. Keep in mind that the ballast is responsible for consuming an additional 20% per fixture and puts additional stress on your new LED tubes, shortening its lifespan.
Direct Wire or Ballast Bypass LED Tubes
The ballast bypass LED tubes are designed to connect directly to the line voltage. You must remove the ballast in order for them to work.

Shop all Ballast Bypass LED Tubes

The last question you might have is what do you do with the current tombstone.

What are tombstones?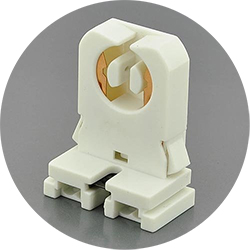 Tombstones are the two sockets where the light tubes connect
The short answer is NOTHING. The beauty is both types of LED Tubes are designed to work with non-shunted tombstones, and so are T12 fluorescent tubes.
What is the difference between shunted versus non-shunted tombstones
As of 11/14/2014, the Department Of Energy has prohibited all manufacturers from making magnetic ballast. Since all T12 linear fixtures are typically paired with magnetic ballast, they will become more and more difficult to replace.

If you are still not sure about upgrading to LED Tube, please read our LED Fluorescent Tube Replacement guide.
As always, please reach out to our LED lighting team if you have any other questions, or you just want to chat about ways to better reduce your carbon footprint!
Now that you have learned about T12 LED fluorescent tube replacements, are you ready to cut your lighting power consumption by 50%?
Were you trying to say that "The beauty is, both types of LED Tubes are designed to work with non- shunted and shunted tombestones?"

If so it should probably read like "The beauty is both types of LED Tubes and T12 fluorescent tubes are designed to work with shunted and non-shunted tombstones."