Aero Pure 80 CFM 2-Bulb Quiet Bathroom Heater Fan with Light with True White Grille
Aero Pure A515A W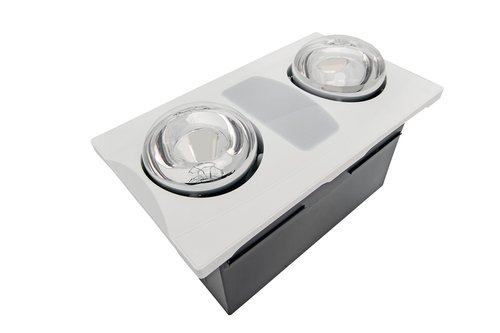 Eradicate any excess moisture from your bathroom with the Aero Pure Quiet Bathroom Heater Fan with Light. hop with Homelectrical for more ventilation solutions today.
Shipping
Usually Ships 1 to 2 Business Days
Comparable Bathroom Fan Products
Aero Pure A515A W Description
Aero Pure 80 CFM 2-bulb Quiet Bathroom Heater Fan with Light with True White Grille features:
Grille dimensions: 9 1/16" x 15 3/4"
Housing dimensions: 7 1/2" x 13 3/4" x 7 1/8"
Easy installation mounting brackets included
270W infrared heat lamp and 60W center light bulb included
Do not install directly over shower or tub
Must be installed by a licensed professional
Requires a dedicated 10-amp circuit
The power source must come to the heater first and then back to the switch
This allows the thermal sensor to register the ambient temperature inside the can. If the temperature is too high, the fan will come on automatically
Very low noise level of 1.0 Sone
Rust-proofed steel fan housing unit
Built in backdraft damper prevents outdoor air from entering through fan
4" diameter duct connection
Motor equipped with thermal shut off
Durable long life 270 watt anti-blast hardened glass bulb manufactured for resistance to condensation and water
Three function switch included
Product Specification
Manufacturers Parts Number
A515A W
Manufacturer Description
No matter what climate you may live in, no one likes to step out of a warm shower or tub into a chilly bathroom! Aero Pure's combination ventilation fan with heat and light delivers immediate warmth when you step out of the shower while quietly clearing the bathroom of excess moisture. Extra wide heat lamps keep your bathroom warmer with fewer cold spots. The fan, light, and heater may be wired separately.
Aero Pure A515A W Reviews